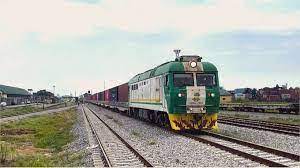 The first container freight train of the Lagos-Ibadan railway has taken off from the Apapa port in Lagos.
According to a statement on China Civil Engineering Construction Company's website,  the container carried 40-foot containers to Ibadan.
The statement added that "The Nigerian Railway Corporation plans to operate one pair of container trains daily and gradually increase the number of trains as the demand grows, improving the railway transportation system behind Lagos Port"
Former President Muhammadu Buhari in June 2021 had inaugurated the 157-kilometre rail for passenger services and to ease cargo evacuation from Apapa Port, which has a total of five terminals and eight jetties.
The facility was installed to reduce the burden of containers on the roads, as well as congestion at the port and its access routes.
While it started passenger services five days after the inauguration, NRC missed several deadlines for the commencement of the cargo operations due to some setbacks.