At least 14 crew members have been rescued after a cargo ship sank in the sea between South Korea and Japan, a spokesperson for the South Korean coastguard said on Wednesday.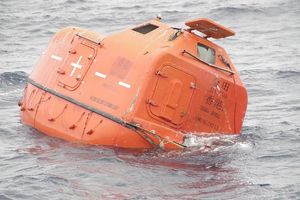 He, however, said it was unclear how many of the rescued crew were still alive.
South Korean news agency Yonhap reported that at least 11 were unconscious when rescued.
The ship sent a distress call early on Wednesday morning about 150 kilometres south-east off the South Korean island of Jeju, Yonhap reported.
When the coastguard reached the location, the vessel had already sunk.
The cause of the incident was initially unclear.
According to preliminary information, 22 people had been aboard the 6,551-ton freighter that was sailing under the flag of Hong Kong, transporting timber.
Six of the crew members were pulled out of the water by the South Korean coastguard while the rest were rescued by the Japanese coastguard as well as civilian vessels.
This is according to the spokesperson.
shippingposition
Kindly like us on Facebook/twitter