The Gulf of Guinea Municipal Centre in Calabar is seeking partnership with the University of Calabar (UNICAL) on Research and Development to strengthen its activities in the region.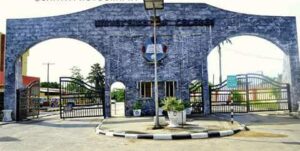 Cross River Special Envoy to the Gulf of Guinea, Mr John Gaul-Lebo presented the proposal last week in Calabar in Cross Rivers state to the Vice Chancellor (VC) of UNICAL, Prof. Florence Obi.
According to the envoy, the centre has been designed to promote trade activities in the 39 member countries within the Gulf of Guinea.
Gaul-Lebo, the immediate former Speaker of Cross River House of Assembly, told the VC that the Gulf of Guinea had secured the right to float the Regional Consolidation Centre for Trade in the Gulf of Guinea area.
He noted that the centre had been given approval by the Federal Government through the Ministry of Industry, Trade and Investment and also from the Cross River Government for its commencement.
"Looking at the fact that we deal in raw materials and finished goods, it is critical to build the capacity and knowledge transfer of the people we need and the ecosystem to function optimally.
"No serious country gets rich by trading in raw materials alone. You also need to have the capacity to train your people to provide service within the ecosystem.
"We have identified UNICAL as an institution that should host the Research and Development Centre to build capacity for trade and services into the Gulf of Guinea.
"What we are looking at is to build sector-capacity within the ecosystem to be able to support that service delivery,'' he said.
The special envoy noted that the biggest business in the export market was the service economy, adding: "we want to build the mental capacity of our people from the University of Calabar.''
Responding, the VC commended the delegation for exploring ways of fostering regional trade within the Gulf of Guinea, adding that her administration placed premium on entrepreneurial development.
She appointed the Deputy Vice Chancellor Administration, Prof. Mike Okom to interface with the team with a view to reaching a conclusion for the partnership.