After almost five years since the inauguration of the Neopanamax locks, the Panama Canal Authority has announced increasing the maximum allowable length for vessels to more than 370 meters long, an increase of over 4 meters compared to the previous limit.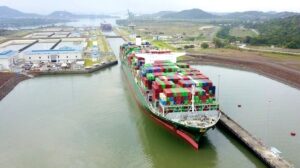 The authority's Advisory to Shipping No. A-23-2021 informs customers that, effective immediately, the maximum length overall for commercial and non-commercial vessels accepted for regular transits for the longer and wider locks is now 370.33 meters (1,215 feet), up from the previously established maximum vessel length of 366 meters (about 1,200 feet).
The new rules also require that vessels exceeding 367.28 meters (1,205 feet) will need to be equipped with a fully operational bow thruster during transit, otherwise they may be assigned additional resources at the vessel's expense and may experience transit delays. Vessels exceeding the length will also be assigned an additional tug to assist during northbound approaches into Agua Clara lock, from Gatun Lake. The extra tug assistance will be charged in addition to the standard tug tariff paid by the vessel.
Considering the Neopanamax lock chambers are more than 426 meters long, in the past some exceptions to the rule have been made. Like in 2019 with the record-setting transit of Evergreen's 369m containerhip M/V Triton. With a 20-row beam measuring 51.2m and 15,313 TEU capacity, the ship became the largest to use the waterway since the Expanded Canal was opened in June 2016.
Last week, the Panama Canal Authority also increased the maximum authorized draft in the Neopanamax locks to 15.24 m (50.0 feet) Tropical Fresh Water (TFW) after recent rainfall in the Panama Canal watershed, thereby further increasing the amount of cargo a ship can carry when transiting the waterway.