By Joshua Yousouph
The Maritime Workers Union of Nigeria (MWUN) has signed a Joint Venture Agreement (JVA) with Ideation Development Limited to develop 56 residential homes for its members.
Speaking during the signing of the agreement at the unions' National Secretariat in Lagos on Thursday, the President General of MWUN, Comrade Adewale Adeyanju noted that there was need for the union like others to diversify into legitimate ventures to generate revenue for the welfare of its members.
Adeyanju however informed that the union has decided to partner with a real estate company to develop its 1.79 hectares of land in the Okokomaiko area of Lagos State in order to provide residential homes for its members and in turn generate revenue for the union.
According to him, the land cannot continue to lie fallow when there can be a structure built on it in the name of the union on it.
The project is expected to have 32 units of two-bedroom apartments and 24 units of terrace houses with state-of –the-art facilities and stable power and clean water in a gated and secured environment.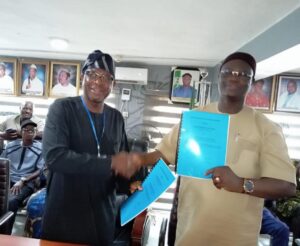 An obviously elated union's PG said: "Today is a new dawn in the Maritime Workers Union of Nigeria as we prepare to sign this agreement with the reputable developers. It is not about an individual, but about the system and the union, where, over the years many people have asked if we have any project at all.
"We have thought about what we can we put our hands on. That is why we have decided to use the profits from our land for development purposes, to improve this great union and expand its scope. The property remains that of the union and does not belong to me.
"What we're doing now is another act of foresight, so that the whole world will recognise the Maritime Workers Union of Nigeria and the fact that we are trying to expand our scope into so many ventures that will generate more revenue".
Giving a background, he said, "We have been on this matter for almost a year now, with a lot of disagreements in-between, and while the investors have every right to make demands, we also have the right to disagree with them, since we're the ones giving out our property"
"But today, those disagreements are coming to an end, and we're signing this agreement on behalf of the union" Adeyanju noted.
On his part, the Managing Director, Ideation Development Ltd, Chief Adekunle Oyinloye informed that the duration of the project is estimated be between 18 to 24 months.
Chief Oyinloye who was a former Group Managing Director of SIFAX also informed that the company had earlier built about 152 homes known as Peridot Estate in Idale, a town in Badagry with modern and state or the art facilities.
While expressing his excitement towards the opportunity to partner with the union, he noted that the project will be a definition of housing masterpiece which will lead to the transformation of that particular neighborhood. He also disclosed that sales of the apartments will be on first-come –first-serve basis, even before 100 per cent completion, adding that members of the union will be the first beneficiaries.
"A land can be accruing in value, but remain worthless until it is turned into something tangible, and for an organisation to build something on it is also to change the landscape. And I'm sure that you'll be redefining what property is like in that neighborhood. Hence, it is our joy that we're sharing this together.
"Marketing will be in full swing, jingles about the project and pictorials of the buildings will be everywhere. As mentioned earlier, we have spent about a year hatching out the details of the agreement; the unions' executives were pressing for the best for the union, and we were also looking at a good return on investment, since we're going to spend a lot of money on that place. But we believe that, at the end of the day, we will work together to convert it to real value and then we can move on to the next property to develop, and with that process, the union can expand its sources of revenue. We want the union to be as rich as it can be, because then you can help your members more.
"You can be sure that we'll set up a mechanism between us and the union, so that whatever amount we spend on the project is jointly known. We don't want to tell you a price today and then it changes tomorrow. Three months ago, inflation was at 11 per cent, and today it is about 16 per cent, and we don't know where it is going.
"However, we have no fear of the project experiencing any setback. It is our belief that it will handsomely reward the union and us in the end. We are excited to partner with you, and we will not let you down" Oyinloye concluded.
Kindly like us on Facebook/twitter