The founder of the National Association of Government Approved Freight Forwarders (NAGAFF), Dr. Boniface Aniebonam has accused the Association of Nigerian Licensed Customs Agents (ANLCA) of hampering the growth and integrity of the business of freight forwarding business in Nigeria, through the crises and rivalries.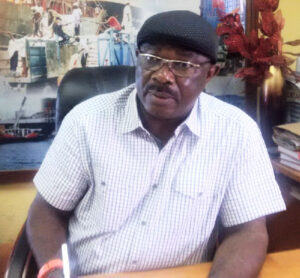 While delivering a speech at the recent 2nd Matriculation ceremony of the NAGAFF Academy, Dr. Aniebonam noted that NAGAFF is on a revolutionary mission aimed at rebuilding the mess her sister organization has allegedly created in freight forwarding.
"NAGAFF is a revolution because ANLCA our sister organization has put us in a mess. It is very easy to destroy, to rebuild is a problem. ANLCA is a total nonsense", he said.
Aniebonam stated that the CRFFN is saddled with the mandate to ensure the growth and success of freight forwarding in Nigeria. He however lamented that the efforts and objectives behind the creation of the council have been frustrated by ANLCA.
He said: "We thought we did all we did to enact and facilitate the Council. A council that provided us all the cover we needed to belong to the body of professionals, but till today ANLCA never allowed this council to succeed and they think they are fighting NAGAFF or whatever, it's unfortunate. But the good news is that the council is already there."
The founder of NAGAFF however, mentioned that the inadequacies of the council were caused by ANLCA who initiated the influence of the government on the council thereby making it difficult for freight forwarders to be part of the council.
"Can you imagine a council that the wise men of the National assembly gave to us because of avoidable rivalry and ANLCA made it possible for the government to get into the council and get hold of the council and now we are struggling to even be part of the council".
Speaking on the prospects of freight forwarding in Nigeria, Aniebonam also lamented why freight forwarders who are the artery of the national economy have no place in the comity of professionals in the country.
"If those small countries can fly on private jets as freight forwarders, then look at Nigeria. Look at freight forwarders in a country like Nigeria. We have opportunities more than many other countries within the African sub-region. This is what the government gave us free of charge and ANLCA destroyed it. What nonsense is all these? But they will never know peace and that's why they are fighting themselves there. You don't fight NAGAFF people, we are children of God. Anybody who fights NAGAFF people is fighting the children of God and the consequences are very high. The only thing for ANLCA is to stay away and leave NAGAFF alone because NAGAFF is not after you and you cannot be after NAGAFF. What we're talking about is for the good of our profession and the good of all of us. We don't have anything against anybody", Aniebonam concluded.