The 100% Compliance Team of the National Association of Government Approved Freight Forwarders (NAGAFF) has petitioned against unequipped and flooded facilities at some bonded terminals at Amuwo Odofin Industrial Layout and Okota respectively.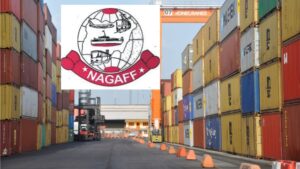 In a document signed by the leader of the team, Alhaji Ibrahim Tanko, it lamented the level of suffering of freight forwarders and port users and even the Customs officers serving in these terminals.
In the petition, the team stressed that, "it may interest you to know that our containers are being dropped on flooded grounds for examination and you must put on a rain boot to be able to access the terminal. This has led to some of the examined container contents being damaged, most especially those in cartons and thereby creating problems between our members and our clients.
Specifically, it alleged that, "at Unity bonded terminal, there's no forklift to bring out palletized goods for examination, and this has kept us down for weeks while the demurrage continues to rise at terminal and shipping company. Same scenario goes to Sifax 2 bonded terminal, Okota where you get a flooded, marshy and smelly ground floor".
While addressing journalists, the Compliance Team leader said he wanted to draw the attention of the Customs Area Controller to the non-compliance attitude of the terminal operators and promised to escalate this matter if the terminal operators fail to live up to expectations or dare to request demurrage from their members.
"We have got a lot of issues within the last one year and three months and we don't know where to take our cry to. We want to start from the bonded terminals, shipping companies then government agencies. We have written a petition against these terminals. We have complained and from today we will not take it again. Customs must close down those terminals. We are ready to go anywhere. We have evidences of pictures and videos. We want to use these two terminals as examples to others. We are still coming to Maersk Line. We just want people to do the right thing", he added
At the sideline of the event, the 20-man operational compliance team was inaugurated and charged to ensure full compliance to laws and the sanitization of the corridors of the terminals and the ports at large.
Kindly like us on Facebook