The Nigeria Customs Services (NCS) in Katsina State says it has impounded an articulated vehicle loaded with polythene bags, each containing 35 litres of Automotive Gas Oil, popularly called diesel, concealed in 200 sacks.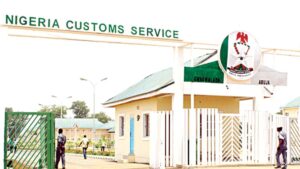 Alhaji Albashir Hamisu, Controller in charge of Federal Operations Unit, Zone 'B' Kaduna, disclosed this on Thursday while handing over the vehicle to the Nigeria Security and Civil Defense Corps (NSCDC).
According to him, the vehicle was intercepted at the early hours of Wednesday along Batsari-Jibia road, while heading to Jibia Local Government, an area around the Nigerian-Niger Republic border.
Describing the seizure as huge, Hamisu explained that each of the sacks contained 35 litres of the product dispensed in thick polythene bags.
He said if the perpetrators had escaped, it would have ended up in wrong hands.
"You see, the importance of this arrest is that banditry is being promoted by this kind of illicit products.
"Everyday bandits are on their motorcycles and the bandits don't come to the filling station to buy fuel.
"You will be surprised to see how they are filling their tanks everyday to carry out their criminal activities.
"I am sure that NSCDC is very capable of investigating the matter and getting to its root. That's why we are handing it over to them, because they have the constitutional rights to handle it.
"There is no alternative than for security agencies to work together, because the environment does not suggest working alone.
"A single agency cannot work alone. If they work alone, they can easily get it wrong. Therefore, it is a must that we should work together and by God's grace, we will get it right," he said.
In his response, Alhaji Mohammed Sanusi, the Commandant, NSCDC in Katsina State, commended the efforts of the customs.
Sanusi further assured Customs of his continued support to the command in Katsina State.
Kindly like us on Facebook