Academic and non-academic staff of the Nigerian Maritime University (NMU), Okerenkoko, Warri South-West Local Government Area of Delta State have suspended their industrial action.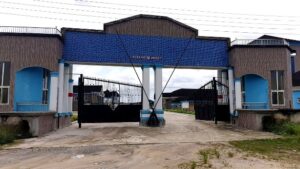 The suspension came following a resolution arrived at during a marathon meeting between representatives of the staff members and the school management.
A teaching staff, who pleaded anonymity, said the management had agreed to settle all outstanding allowances as well as pay the 13th-month salary to rev up the morale of the workers.
"We staff have agreed to suspend the ongoing strike after a robust meeting between us and the management," the teaching staff, who said they urged not to reach the press on the issue again, noted.
Recall that the Registrar of the university, Dr Alfred Mulade, had, in a statement, insisted that the workers were not on strike over unpaid welfare allowances, among others.
He was responding to some online and social media reports that workers of NMU were spoiling for a 'massive protest' over alleged neglect and unpaid salaries.
But, the workers comprising the academic and non-academic of staffers the university had commenced an indefinite strike on November 9, 2021 to protest alleged non- payment of over 30 months of allowances, general poor welfare for members of staff and poor infrastructure, to which the management had paid deaf ears after repeated warnings. The decision to embark on a strike, according to the workers, was reached Monday, after a meeting of both the academic and non-staffers at the temporary campus in Kurutie also in Delta State.
Some of the grievances of the workers include alleged non-paid allowances, which include the 13th– Month, payable every October, which was stopped since 2019, 28th –day accommodation allowance in lieu, stopped since 2019, statutory incidental, hazard, peculiarity and other allowances in one package also stopped since May, 2019, all of which they claimed were approved by the Federal Government through the council and earned prior to May, 2019, as payments were allegedly ongoing before the advent of the current management.
Others include inadequate infrastructure for teaching and learning, inadequate office accommodation for staffers, total absence of a Library at Okerenkoko campus, no residential accommodation for staffers etc and that as NMU staffers, their duty is to meet up on their part in terms of the service level agreement (SLA), 'DO OUR JOB', while the job of management is to pay for their services and that how and where they get the money, is not the business of staffers.
In a resolution jointly signed by Comrades Oweikeye Pathfinder Endoro and Moses Yabrade after the meeting, the staff unanimously endorsed the strike.
The resolution reads in part: "Staff of NMU at all levels, namely, academic and non-academic agree that the patience and understanding with management regarding the needs of staffers has been long envisaged and misconstrued to imply ignorance and weakness.
"The only congress held out of pressure on the 19th of February, 2021 where management in attendance promised to look into staffers welfare issues, till date has not yet yielded any pleasant outcome, rather worsening and unabated.
"To this, staffers have resolved as follows: that workers' 28 days in lieu of accommodation for new employees be paid without further delay, workers relocation allowance from Kurutie take-off campus to Okerenkoko, Abuja and Warri offices, covering expenses on accommodation, transport, furnishing and risk be paid without further delay.
"Staffers 13th month payable every October be restored and arrears paid without delay from October, 2019 to date respectively. Monthly general allowance to staff covering peculiarity, hazard, risk, and others last paid on May, 2019 should be paid without further delay. Accrued arrears of 30 months (May 2019 to October 2021should be paid without further delay."
The staffers also noted that the above listed items were duly approved by the Federal Government through the appointment of Council headed by Minister of State for Petroleum Resources, Chief Timipre Silva in September 2018 which are due for review.
The striking staff also decried the state of infrastructure at the institution as well as the incessant commercial boat mishaps experienced by staffers and cadets, which they described as worrisome.
"Teaching and learning facilities such as classrooms, offices and library especially at Okerenkoko main Campus need urgent attention if the university is serious with the accreditation of her degrees.
Medical facilities should be defined beyond mere paracetamol dispensing centres. A well -equipped secondary health centre, befitting of an offshore university at the main campus should be established to address the healthcare needs within the shortest possible time. Pending the actualisation of the aforementioned demands, we hereby suspending our services for the institution indefinitely", the workers also said.
However, debunking the allegation in its entirety, Registrar of the institution, Dr Alfred Mulade, said it was not possible for the management to owe workers whose salaries come directly from the Federal Government.
"The attention of Nigeria Maritime University, Okerenkoko, Delta State has been drawn to a news item circulating in the social media platforms, canvassing spurious allegations of imminent showdown by workers of the institution, alleging neglect and non-payment of staff allowances by the university, and went on to canvas out of the way assertions.
"To put the record straight: the Nigeria Maritime University, Okerenkoko, is a Federal Government Parastatal, guided by public service rules and extant regulations, being managed by responsibly knowledgeable personalities, and could not have deprived any staff of his legitimate earnings.
"Every discerning mind is aware that salaries of Federal Ministries, Departments, Agencies and Parastatals are paid centrally through the Integrated Personnel and Payroll Information System (IPPIS).
"Individual entities has no power to arbitrarily determine own staff salaries and allowances, without recourse to National Salaries, Incomes and Wages Commission and other extant regulations.
"It is appalling that, The Liberator, could throw caution to the winds and went to town, on hearsays, without, verifying with authorities of the university, on such matters certainly beyond its comprehension.
"Inasmuch as the university is not desirous of joining issues with this reporter, it must be noted that this report is inconsistent with reality, both in content and in context, and should be disregarded," he admonished.
Dr Mulade further averred that the university "operates very robust grievance procedures in all our dealings with staff, students and stakeholders, and not in a position to remit content of such conversation to this arena."
Efforts had been on to resolve the industrial action which also brought about the intervention of HRM Oboro Gbaraun II, Aketekpe of Gbaramatu Kingdom in Oporoza last Wednesday at his palace.
Kindly like us on Facebook