The Nigerian Immigration Service (NIS) has appealed to the Nigerian Maritime Administration and Safety Agency (NIMASA) to partner with it on issuance of travel documents to seafarers.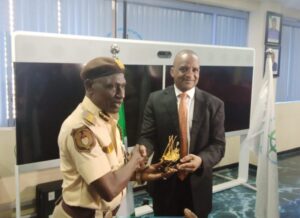 The Comptroller General of Immigration, Mr Isah Jere, made the appeal during a working visit to NIMASA headquarters in Lagos on Thursday.
According to Jere, the partnership with NIMASA on issuance of travel documents to seafarers will ensure harmonisation for ease of control.
"Sections 2 and 9 of Immigration Act, 2015, confer the power to issue travel documents on the NIS.
"We think that it is important that as government agencies we need to deepen conversations on how to streamline our processes and procedures to ensure that we do not allow unnecessary duplication or overlap of functions.
"The Ease of Doing Business policy of government demands that agencies of government consistently endeavour to deploy streamlined and seamless processes and procedures for the comfort of the public across various windows," he said.
The immigration boss noted that the service saw enormous strengths in collaborations and synergy.
He said NIMASA and NIS had a lot to gain if they deliberately deepened partnership and synergy in their operational activities.
He added that the services would make useful contributions to the maintenance of Blue Border security and national economic prosperity if they joined forces to address emerging challenges across the country's coastal lines.
"NIMASA, NIS and other critical stakeholders in the maritime sector need a lot of joint operations and collaborations to meaningfully address the violation of our maritime lines and rich natural endowments.
"It is on this note that I considered this visit as very strategic to enable us deepen conversations on how best we can work for a well-regulated and secured maritime territorial integrity.
"For us in the NIS, our blue border operational areas cut across the sea borders where we undertake the following activities among others: crew examination and control, signing on/signing off of embarking and disembarking vessels' crews.
"Others are stowaway control, processing of Temporary Work Permit (TWP), handling of passport referral cases, sighting of passport for consignees, granting of transit pass to disembarking/transiting crew members, granting of shore passes to deserving crews," he said.
He added that the service would collaborate with NIMASA on operationalisation of the Coastal and Inland Shipping (Cabotage) Act, 2003, seeking ways of standardising Seafarers' Identification Document (SID) in line with International Civil Aviation Organisation (ICAO) specifications.
Others, he said, are: processing/issuance of visas, Temporary Work Permit (TWP) and other immigration facilities to foreign seafarers and participation in various joint committees aimed at ensuring the successful implementation of the Cabotage Act.
Responding, Dr Bashir Jamoh, DG, NIMASA noted that the agency could not have had easy movement of its own seafarers without the help of the NIS.
Jamoh added that the NIS was in the forefront of identification of nationalities, with regards to tribe, to ensure who belonged to Nigeria and other countries.
He cited an example of the Danish citizens that were arrested at sea and how the NIS was able to identify them.
"The Danish Embassy called and said that they didn't have travel documents of these suspected criminals, how their nationality will be identified because they were arrested outside Nigerian territorial waters but very close to her borders.
"The only thing we could do was through the NIS who are the experts trained for this. This shows the interface and collaboration between the agency and the service, which was more paramount.
"On the issue of crime at sea, those at the correctional centres, it is the immigration service that has custody of those individuals.
"So, technically looking at it, there is nothing that the agency can achieve in terms of maritime security without the help of the immigration service," he said.
He pointed out that in essence, both organisations must ensure that they continue to maintain the tempo and the successes recorded.
"The issue of cooperation, collaboration, coordination and information sharing is vital in whatever they are going to do," he said.
Kindly like us on Facebook/twitter