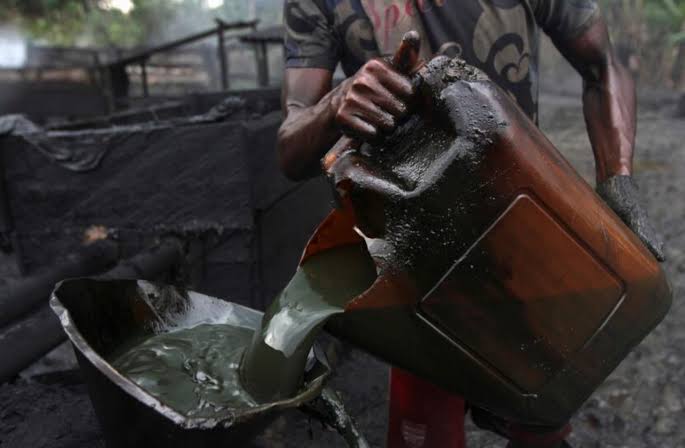 The Nigerian National Petroleum Company Limited (NNPCL) has stated that a total of 128 crude oil theft incidents were recorded across oil-producing areas of the Niger Delta between September 30 and October 6 2023.
This is according to a report from the weekly "Energy and You" series produced by the Nigerian National Petroleum Company Limited (NNPCL) and airing on the NTA News Network.
The report in the specific timeframe mentioned, there were numerous illicit activities in the oil sector which included 17 cases of unauthorised connections, 27 illegal refineries, 11 infractions related to vessel tracking systems (AIS), and 49 instances of wooden boat arrests.
Additionally, there were 10 cases of pipeline vandalism and 10 vehicle-related arrests. Authorities also discovered and took action against two illegal storage sites. Moreover, they identified one oil spill site and made an arrest related to a vessel involved in illegal activities.
The report went on to highlight a significant incident during that week involving Tantita Security Services Limited. They discovered a vandalised wellhead offshore in Warri, Delta State, with oil spewing into the sea, causing pollution.
Disturbingly, the security outfit received intelligence indicating that foreign ships were stealing oil from this location and selling it in neighbouring countries, exacerbating the environmental and economic implications of the situation.
The incidents of crude oil theft were disturbingly widespread, unfolding across various locations in Delta, Rivers, Bayelsa, and Imo states, all of which are situated within the vulnerable Niger Delta.
Shockingly, the thefts were distributed across different maritime regions, revealing the depth of this criminal activity.
In the Deep Blue Water alone, 12 incidents of crude oil theft transpired, indicating the audacity of criminals to venture into more challenging and deeper maritime areas.
Closer to the coast, the Western region had 37 reported theft incidents, highlighting the severity of the issue in this particular area.
Moving towards the heart of the Niger Delta, the Central region experienced 25 incidents of crude oil theft. The most alarming figures emerged from the Eastern region of the Niger Delta, where a staggering 54 incidents of crude oil theft were recorded.