The Port Health Services (PHS), a department under Federal Ministry of Health, has destroyed large quantity of expired groundnut oil, wheat, assorted beers, wines and milk, worth N2.5 million on Tuesday at Idi-Iroko, Ogun State.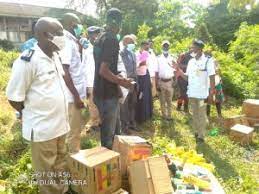 Mr Afolabi Taiwo, Ogun and Ondo Coordinator of PHS, told newsmen that the items were intercepted in the border areas between January and October this year.
The seized items, which were burnt in the presence of other security agents, included 87 cartons of groundnut oil, 20 cartons can beer, 2 bags of wheat, 10 cartons of wine and five cartons of milk.
"The seizures were made during checks carried out by PHS personnel on vehicles traveling within Ogun State taking them to their shops within the state.
"Some of the expired products were manufactured in Nigeria, while others were made by foreign manufacturers but were intercepted because they have expired and dangerous for human consumption.
"Consumption of such expired products is quite injurious to health and well-being of citizens. It could lead to untimely deaths," he said.
Taiwo said the PHS would continue to carry out such checks and inspection in order to safeguard health and well being of Nigerians and appealed to Nigerians to be conscious of their health, adding that health is wealth.
He urged the government to provide the service with more vehicles to enable it carry out its activities effectively within the border areas, adding that the PHS was short-staff due to retirements and deaths.
The Officer-in-Charge of PHS at Idiroko border, Mr Patrick Acheneje, said the expired food items were seized at Ajilete PHS check point by its food inspection unit.
"We will continue our actions to stop expired, unfit, unsafe and unwholesome food items from finding their way to the market or public," he said.
Kindly like us on Facebook