A member of the House of Representatives, Mr Wale Raji (APC-Epe), has urged boat operators to comply with government safety regulations on waterways.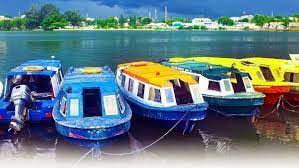 Raji said on Friday in Epe, Lagos State, that the safety of lives and property was paramount to the government and hence the need for boat operators and commuters to comply with safety rules while onboard.
The federal lawmaker commended the Lagos State Waterways Authority (LASWA) for recently distributing 500 lifejackets to students, boat operators, fishermen and other waterway users in the riverine communities of Epe.
He applauded the agency for the kind gesture and urged boat operators within Epe to register with the agency and comply with all safety regulations.
He said that there were lots of benefits that accrued to registered boat operators with the agency and enjoined all boat operators in the Epe Division to register with LASWA.
Raji urged boat operators to make judicious use of the lifejacket while on the waterways.
"Operators should also ensure that their passengers wear their lifejackets properly while onboard.
"Strict regulations and rules need to be adhered to while on waterways to avert any unwanted circumstances," he said.
Recall that, as an effort to encourage water transportation and improve safety on the Lagos inland waterways, the Lagos State Waterways Authority (LASWA) last week commenced the year 2021 life jacket distribution exercise at the Epe division with over 500 life jackets donated to riverine schools, boat operators, and market women from the coastal communities in Epe.
The distribution exercise at the EPE marina waterfront had Royal fathers, political leaders, riverine area school pupils, and other significant stakeholders in the water transport sector within the EPE community.
Speaking at the event, the General Manager Lagos State Waterways Authority, Mr. Oluwadamilola Emmanuel; said through the agency, the Lagos State Government has embarked on a series of policy reforms, programs, and investments to promote and facilitate water transport provision to realize its potential to become an attractive mode of transportation.
This Life Jacket Donation Exercise is one of the many programs that promotes and facilitates water transport. He stated that LASWA embarked on this program to help the people of Lagos State, both old and young, cultivate the habit of wearing lifejackets. This is vital to the growth of water transportation by reducing fatalities on the waterways. He also urged boat operators to strictly adhere to safety guidelines and ensure no one can board their ferries without wearing a standard life jacket.
Beneficiaries at the event included school children and their teachers from several riverine communities, market women and commercial boat operators, and other invited beneficiaries.
Kindly like us on Facebook