A clearing agent, Mr. Ojo Peter Akintoye has blamed setting of revenue targets for some agencies at the port as the reason there is an influx of tramadol and other narcotics at the seaport.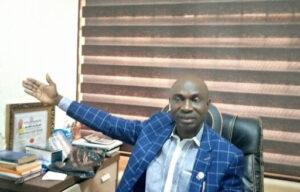 Akintoye who is the factional chairman of the Association of Nigerian License Agents (ANLCA) at Tin Can Island port, in a chat with our correspondent last week, informed that the seaports will continue to experience influx of tramadol and other banned drugs because the Nigeria Customs Service (NCS) and other agencies want to meet up with the revenue target given to them by the Federal Government.
He noted that for every two cargoes intercepted at the port by the National Drug Law Enforcement Agency ( NDLEA), two must have gone out undetected.
He argued that Customs cannot be a revenue generating agency and at the same time facilitate trade.
He said "Nigeria wants SON and NCS to regulate the products coming into the country and the same government placed a revenue target on them.
He said: "If I'm made the head of one of the parastatal and given revenue target, what do you think I will do?
"I know that if I don't meet my target, you will change me. But I don't want to lose my job.
"You can't eat your cake and have it. It's wrong to give a regulatory body revenue targets.
"And that's why we have influx of narcotics at the seaports. You beat a child and you are saying that the child should not cry. It's not possible. It's either you leave that child and enjoy peace or endure his cry when you beat him" he said.
Speaking on the recent relationship between ANLCA and NAGAFF, the ANLCA chieftain commended the new working relationship among the two associations while noting that over the years, Customs has been playing the divide and rule game among the freight forwarders. This is even as he alleged that Customs sponsored the setting-up of NAGAFF to break the powers of ANLCA.
According to him, "For over 20 years, we have been coming together on different platforms and throughout the period, we found it difficult to achieve a purpose because government agencies capitalized on our differences. This is because they can run to ANLCA when they want to do something bad and they will do it knowing that the other party will raise an eyebrow.
"They will tell ANLCA that anytime that group says anything against us, just counter them. There is an adage that where two elephants fight, it is the grass that suffers.
"The situation was better before now because the association spoke with one voice.
"I was in the industry before the birth of NAGAFF. When union speaks, everyone listens but that is not the case today. "So, those who are against our coming together are doing so because of their selfish interests. There is power in unity. So, if we can come together to address the challenges, how's that a problem?
Kindly like us on Facebook