Freight Forwarders (FF) and shipping companies focus on delivering cargo—usually commercial—from one point to another and typically work closely with each other. The main difference between them though, lies in the way in which they function.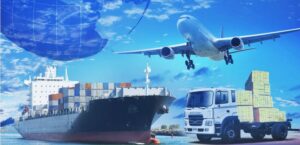 A FF is a company that operates by receiving consignments on behalf of other companies and then ships them to the desired destinations. It can choose which mode of transportation to use be it sea, rail or road.
Cargo Shipping lines are carriers that travel through the world's seas and oceans to carry cargo from one port to another. This is how they handle international trade.
In this post we will discuss the key differences between these two transportation services.
Ownership of Vessels
A freight forwarder doesn't own shipping vessels or carriers and instead works by sub-leasing space in a ship to carry cargo or containers. This means that a FF acts as the intermediary between business owners and professional shipping lines.
Forwarders may consolidate multiple clients' shipments into one container for affordable shipping services.
Air freight forwarders operate much the same way. Some forwarding companies like CSI even assist clients in cargo documentation requirements and custom clearance for air freight.
When it comes to most shipping companies, they typically own and operate the mode of transport such as ships or trucks.
They move consolidated cargo to the final destination port or an intermediate port to be picked up by another shipping company.
Value-Added Services
Forwarders use their network of service providers to offer you all services required to transport goods from origin to destination.
To provide import and export services a FF sub-contracts other companies. This is why they have business ties with customs brokers, truck companies, warehouses and any other line of business shippers might need.
This makes working with FF especially useful as clients don't have to waste precious time tracking down relevant services from various providers.
On the other hand, shipping companies cannot provide such value-added services. They are primarily dedicated to moving containers in a ship. Though they may track the cargo from the port to the final destination, services like customs clearance and documentation stay out of the mix.
Warehouse Space
Freight forwarding companies usually have a separate location for consolidation of goods and cargo. This place is sometimes called a Container Freight Station (CFS) and is used to load/unload containers.
It might also be used to prepare import items coming via ship for distribution and to store export items coming from different companies in one container.
Shipping companies and airlines typically do not have a designated warehouse space like CFS as they don't consolidate goods this way.
Kindly like us on Facebook