Boat operators operating within the inland waterways in Lagos have lamented that the unregulated activities of barge operators and Dredgers on the Lagos waterways are the major cause of boat mishaps in the state.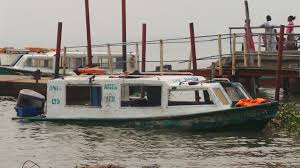 In a visit to the Liverpool jetty by one of our correspondents last week, the boat operators decried that the activities of Barge operators and Dredgers on the waterways is really disturbing and also endangering the lives and properties of water transport users.
While speaking with the Liverpool Unit Chairman of the Maritime Workers Union of Nigeria (MWUN), Comrade Ayeyemi Omosuyi, he told Shipping Position Daily that sometimes Barges and Dredgers disturb boat operators on the waterways by coming into the channels assigned to them. He said the issue has been reported to the regulators, but nothing has changed.
In his words: "Sometimes the Barges and Dredgers disturb us by coming into our channels during the course of doing their business. We have reported this matter to NIWA, because we were told these Dredgers and Barges have been given their own channels to operate.
Also speaking, the Secretary of the MWUN Boat Operators Unit, Comrade Owolabi Omotayo when contacted confirmed that the unregulated activities of Barge operators and Dredgers on the waterways have been a great threat to boat operators. He said, "If you go to the waterways, you'll see some dredgers with their tank pipes not properly placed and without safety signs placed on them, the Government is still talking about it".
Also, a boat operator at the Liverpool jetty who simply identified himself as Alao said there were some boat wrecks recently due to some of these activities. He said, "the wreck we had at Kirikiri was so hard for us. We are still pleading with the government to do something concerning the wreck at Ojo and some areas. But the major one is the one at Ojo which has destroyed and packed-off one of our boats. These mishaps happen when the water is over-flown and there is no sign of indication for boat operators. Operators who are not conversant with that area may not see the wreck and they run into it".
While reacting to the multiple tax allegedly levied on boat operators, the MWUN Chairman of Liverpool Unit, Comrade Omosuyi said they are tired of paying double taxation to regulators and the Police, even as he urged NIWA and the Lagos State Waterways Authority (LASWA) to join hands and speak in one voice so as to relief boat operators of the expenses of running their business.
"We don't want to pay double taxation to NIWA and LASWA because they are the regulators. We want them to join hands together and speak in one voice against double taxation. NIWA wants us to register with them and LASWA also wants us to register with them. The expenses on our business is too high for us. We also pay Identification fees to the Police. We want all these agencies to work together and come out with one voice for a single registration and taxation" Omosuyi pleaded.
Comrade Owolabi Omotayo also said, "We have some issues of taxation, but I think they are trying to find solutions to that. NIWA and LASWA are trying to work together to ensure that boat operators are not discouraged from operating on the waterways. We are informed that they are working together to fine-tune everything and sort it out".
Meanwhile a new Standard Operating Procedure (SOP), which must be complied with by all barge operators on Nigerian waters, is expected to resolve and guide all barge operation activities.
The acting Managing Director, Nigerian Ports Authority (NPA), Mohammed Bello Koko, during an interactive session with members of Barge Operators of Nigeria (BOAN), in Lagos, had said the agency was poised to review the modalities for the registration of barge operating license with emphasis on operators meeting the Minimum Safety Standards ((MSS) of their barges.
He said failure to meet this requirement would force the NPA to bar such operators from using the channels. Under the new set of regulations, an electronic call up system is being developed for deployment for barge operations in which barges would remain at their anchor until they are called to pick, or discharge cargo.
This is aimed at streamlining their movements to reduce congestion and possible threat to ocean going vessels. The NPA has, in this regard, also set out to capture a comprehensive profile of all barge operators, which will highlight the carriers' corporate name to make for easy identification, especially in line with efforts to check the deployment of dilapidated barges that are in poor state and do not meet the minimum standards for barges and tugboats.
Kindly like us on Facebook