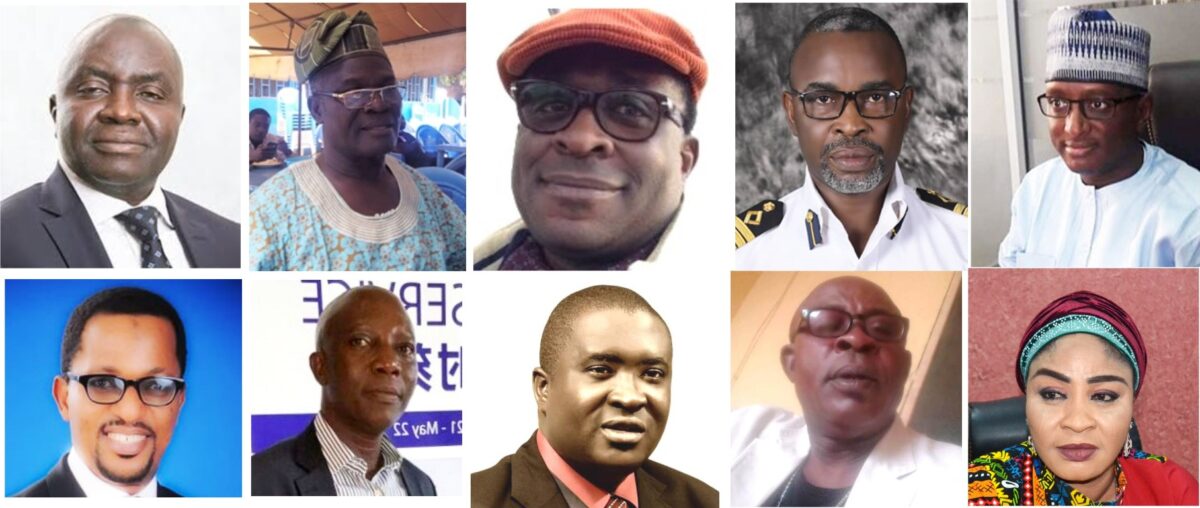 Muda Yusuf (Former DG, LCCI)
We want better ease of doing business at the ports, because the port environment is one of the most difficult environments as far as business is concerned. We expect to see a lot more in terms of cargo clearing processes to be made easier. We want to see easier traffic in and out of the port so that traffic congestion will be removed. We want to also see better cargo handling equipment by the key operators in the port especially shipping companies and terminal operators. We want to see an independent peaceful resolution framework to resolve disputes between importers and customs, terminal operators, and shipping companies.
Chief Remi Ogungbemi ( Chairman, AMATO)
The maritime industry as a whole is the major source of revenue for the nation. As it concerns the haulage section of the industry, I am looking for a more robust electronic system of admitting trucks into the port in a way by which trucks will not be littering the roads; so as to reduce the fatigue and stress the truckers are passing through most especially the drivers.
I'm also looking forward to a situation whereby before any truck can leave anywhere, the driver must have received information that it is his turn to come. So that he will not just come on the road and discover that it is not yet his turn where the law enforcement official will now start harassing him. We want a friendly port environment.
David Etim (Deputy President, Calabar Chamber of Commerce)
We need to have a much more robust long-term plan. Concerning the AfCFTA, a lot of countries are repositioning themselves, but Nigeria does not seem to be taking advantage of its size and its trade volumes. So you find smaller countries like Lome, Ghana, taking advantage of Nigeria's trade despite being the giant of Africa.
There is a lot of work that needs to be done in the maritime sector to be able to take a pride of place. My wish for 2022 and beyond is that Nigeria should be able to control its trade and not be controlled by other countries. Global trade is all about self-interest.
Engr. Bob Yuosou (National President, Merchant Navy)
My expectation in this year 2022 is that there is going to be tremendous changes in the maritime industry. My expectations are very high especially in making sure that the industry gets to the expected heights. As seafarers, we expect that we strengthen our partnership with sister unions, such as the Maritime Workers Union of Nigeria, and regulatory agencies like NIMASA.
We also have to ensure that the rights of our seafarers are not trampled upon by the ship owners, shipping agents and other employers of seafarers. Generally, I know that this year will be a very good year for the industry.
Aminu Umar (Former President, NISA)
We hope to see a lot of improvement from where we are and where we have been. We hope to see better regulatory applications by NIMASA in 2022. We hope to see more government incentives geared towards the development of the industry. We hope to see a lot of support particularly in terms of encouraging and making sure that the local players in the industry are given more support to develop.
We look forward to those incentives and waivers that have been already approved to be applied in 2022 like the import duty waiver which has been given, we want it to be implemented in 2022. We hope that the Cabotage fund that has been approved by Mr. President should be disbursed in 2022. These are the two things that we believe will support the business and we hope that they will be applied.
Now that the Deep Blue assets have been deployed, we hope that we will see a complete zero tolerance to piracy in the waters of Nigeria or the Gulf of Guinea, so that it will bring down the insurance we are paying and the cost of security we are putting onboard our ships which is costing us so much. we hope it will also bring down the cost of delays and demurrages that we incur in the course of setting up our security. We hope we don't have all these in 2022.
Dr. Segun Musa (Deputy National President, Air and Logistics, NAGAFF)
Simply put, the government policies that have been in place in the maritime industry have not been working. We need to look into the policies and see how we can add value to them. Also, the stakeholders in the industry need to form a synergy to see how we can all ensure that things work out well for the benefit of the maritime industry.
Babatunde Mukaila (National Secretary, ANLCA)
I am looking forward to 2022 to see strong responsiveness from government and port agencies in the maritime sector in the following areas: Nigeria Customs Service in the area of functional scanner machinery to forestall cumbersome physical examination procedures and other regulatory agencies, terminal operators and shipping lines by way of functional ICT integration to forestall human contacts. Generally, I look forward to a better service delivery in the sector.
Francis Omotosho (Registrar, NAGAFF Academy)
We expect more advanced security measures to curb piracy in the high sea. We also expect more Hi-tech vessels that will be able to ease vessel operations and solve most of the problems we are facing in the upstream sector of the maritime industry.
For those in the downstream sector which includes the Port Authority, terminal operators, cargo handlers should expand and have a good master plan of their terminals and port. They should also make sure they have the capacity to absorb modern vessels that we are expecting and marry their operations with Hi-tech to be able to cope with the upstream sector.
The port users such as the freight forwarders, importers and exporters and other government agencies operating at the terminals should see to the clearing process of cargoes out of the port as well as make sure that nothing criminal or prohibited will come into the country.We expect Customs particularly to look into trade facilitation and supply chain procedures and not limit themselves to anti-smuggling and revenue collection alone.
Rev. Alex Nwokedi (National Financial Secretary, AREFFN)
We don't expect much; it is the same old system unless there will be few changes by the shipping companies. Most of the policies laid-down by the authorities have not been taken care of by those that should have done these things.
All we are looking for is, if there will be few interventions. But there is no magic anywhere, before you earn a living, you should work hard for it. We are looking forward to God touching our leaders and those in higher authority, so that things will begin to change. We hope that at the end of the day, there should be a turnaround.
Hajia Bola Muse (National Financial Secretary, ANLCA)
My expectation for the maritime industry in 2022 is that we pray for the growth of the industry and we expect that all stakeholders do the needful for the betterment of the maritime industry. In this new year, we hope that traffic will be reduced. This is because we have lost a lot between 2020 and 2021.
Kindly like us on Facebook