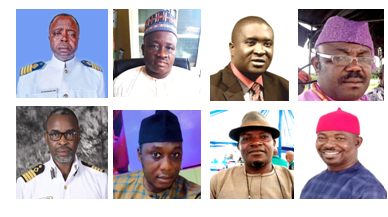 Captain Williams Ogunsakin (Master Mariner and South West Director, MESAN)
There are so many challenges in the maritime industry. The best bet for the maritime industry is for Nigerians to own their own vessels; both for dry cargo and tankers. 70 percent of the vessels are foreign owned. 70 percent is even underrating, it should be about 90 percent. The Cabotage Act is not also working as foreigners still bring their owned vessels manned by foreigners to our waters. If these issues can be solved, 95 percent of the problems we have in the maritime industry will be solved and there will be money in Nigeria to improve the economy. This is because all the transactions in marine is being done in dollars. If the problem of ship ownership is solved and the Cabotage Act is effective, then we would see that these problems will be solved. Also, maritime agencies like NIMASA, NPA, Nigerian Shippers' Council, NIWA and others, should be headed by a seasoned seafarers, because some of those heading these agencies and parastatals know little or nothing about the challenges facing maritime industry and seafarers in Nigeria.
Aloga Ogbogo (National Secretary, NARTO)
I heard the budget has been passed, we need to look at it and see what have been factored in for the maritime industry, because the maritime industry does not work in isolation. We need to also look at government policies as it affect importation. This is also key and fundamental to the maritime sector and will determine what the maritime industry will look like for the year. As regards transportation, the state of Nigeria roads is not too palatable for the trucking industry. The roads are not in good shape for the transportation of cargoes which is greatly affecting the logistics and haulage business. We looking forward to the government in addressing these challenges and many others for the development of the maritime industry in 2023.
Francis Omotosho (Acting Secretary General, NAGAFF)
No country can survive without a viable seaport. We are all in this industry. Even if we don't make policies, we should caution and as well tell those who are in the position of authority to do the right thing and shape their policies if they need to. All the government agencies who are the regulators and also other players should all resolve to ultimately move the Nigerian maritime industry to the right direction. The only way to do that is to do the right thing at the right time and at the right pace, so that people can adhere strictly to them. I will urge government and regulatory agencies to make policies that are friendly to the people, practitioners and players so that we all can work together and get to the right point of success in the industry.
Chief Raymond Gold (National PRO, WABOTAN) 
I expect a smooth free operation system. I expect more safety on our waterways by all the relevant agencies doing what is expected of them. Those who should provide training, navigational aids and other facilities should do that. I also look forward to a mindset where the regulators particularly will welcome advocacy from Civil Society Organisation on safety on our waterways. Above all these, we look towards more stakeholder-friendly policies from government and where necessary, better laws are enacted for the development of the industry. As stakeholders too, we are committed to putting in what is expected of us.
Engineer Bob Yousuo (National President, Nigerian Merchant Navy)
We hope that this year the Federal Government through NIMASA will make friendly policies for the development of the industry. They should also ensure that the Nigerian ship owners acquire more Cabotage vessels that will enable cadets have adequate seatime and cadetship. We also want our certificates to be more recognised locally and internationally. More jobs should be created for qualified seafarers who are yet to be engaged. We also want to appeal to the government to increase the salaries and welfare packages for seafarers and workers generally in the industry due to the present biting situation of the country's economy. We look forward to a successful general elections and enjoin all seafarers who are not at sea to get their PVCs and vote the right candidate into government for the development of the industry and the country at large.
Mr Bala Muhammed (Administrative Secretary, Association of Maritime Truck Owners) 
I look forward to the elimination of multiple checkpoints on both inbound and outbound section of the ports access roads, where truckers are massively extorted by uniform and non-uniform personnel. Also, I look forward to stopping the activities of hoodlums along the ports' corridors extorting truckers, assaulting their drivers and damaging their trucks. No civilian or people in mufti should be standing with traffic enforcement operatives at approved checkpoints.
Clinton Okoro (APFFLON PRO, Tin Can Chapter)
This is an election year and most times things are slow because major activities wait until after elections. Most of the freight forwarders are not happy with the unfriendly policies by the government. We still have some issues with the Valuation of VIN and there are some recent developments that are being put in place which are posing challenges for freight forwarders and stakeholders in the industry. Nevertheless, we are still hopeful that these policies are looked into and adequately addressed. We are hopeful that things will be better this year
Comrade John Okpono (Secretary General, Merchant Navy) 
We hope government will upgrade the standard of our maritime institutions so that other countries will be able to recognise and reckon with the certification of these Nigerian maritime institutions. They should also ensure they have bilateral and multilateral agreements with other countries in order to have better working relationship for the development of our maritime industry.
shippingposition
Kindly like us on Facebook/twitter