10 members of the National Association of Government Approved Freight Forwarders (NAGAFF) has picked-up forms to contest next month elections into the governing council of Council for the Regulation of Freight Forwarding in Nigeria (CRFFN).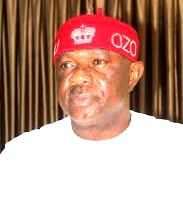 Speaking to Shipping Position Daily correspondent exclusively on Wednesday, the founder of NAGAFF, Dr. Boniface Aniebonam informed that the association is driving towards producing 10 out of 15 members in the governing council.
While also informing that a total sum of N100 million has been raised for logistics and other incidentals as take-off fund to fund the elections.
Aniebonam stated that the move is necessary in other to give direction in the management of the CRFFN.
He listed the 10 members of NAGAFF who have picked up the form as: Mallam Ibrahim Tanko, the present National Coordinator of NAGAFF 100% compliance team, Engr. Emmanuel Umeadi. Engr. Chukwunonso Ejikeme, Chief Ifeanyi Ekemezie Dr. Okechukwu Okoro, Mr. Ndubuisi Uzoegbo, Chief Tochukwu Ezisi, Mr. Timothy Awogbemi, Princess Chi Grace Ezeh and Barrister Henry Orarotimi
He further said although NAGAFF was magnanimous to accommodate other registered sister associations in the last election, he however said the story will not be the same, owing to what he called the 'gang up' of the other freight forwarding associations against NAGAFF in the last governing council.
He added that NAGAFF may not be ready for any compromise any longer but strictly business as it were, while also informing that the Association of Nigeria Licensed Customs Agents (ANLCA) may only be left with 5 slots to fight for.
He urged young freight forwarders to join NAGAFF and CRFFN where they will be duly- protected.
Aniebonam recalled that at the last elections, NAGAFF had a total of 1100 voters out of 1300 eligible voters.
According to him, "You will recall that in the last election into the Council, the magnanimity of NAGAFF to accommodate other registered associations was significant. It is on record that out of 1300 eligible voters in the last election that NAGAFF had 1100 voters. This simply means that if NAGAFF had decided to pick the 15 seats available that she would have done that. Here we are, that did not happen, but rather we opt to accommodate other sister associations through a memo of understanding. Seats we allocated to NCMDLCA 1, NAFFAC 1, AREFFN 1, ANLCA 6 and NAGAFF 6.
"We regret to state that the story changed at the council where it became a case of betrayal of trust and conspiracy against NAGAFF by the small group associations".
Giving an insight into what may happen, Aniebonam declared that, "as it stands, we may be going into the election with ANLCA left with the remaining five seats. NAGAFF may not be ready for any compromise any longer, but strictly business as it were".
"The young and golden boys and the Princess of NAGAFF are ever determined to add value in the proper management and administration of CRFFN. This has become necessary because CRFFN is a baby of NAGAFF and we must not allow it to die. CRFFN is the pride of NAGAFF and we hold it firm to our chest.
"We therefore call upon all the young freight forwarders who do not have customs license to their advantage, to join NAGAFF and CRFFN where they are duly protected under the law. It is only CRFFN that has the absolute powers to control and regulate freight forwarding profession in Nigeria".
Please note that practitioners as registered freight forwarders of Nigeria under CRFFN do not necessarily need the ownership of licenses issued by the customs to practice. A freight forwarder is primarily a natural person who undertakes the services of moving goods across the international boundaries of a state to arrive at the owner's warehouse in good order and condition, safety and most economic cost", he said.
Kindly like us on Facebook