The President of All Nations Institute of Marine and Technology (ANIMT), Chief Emmanuel Ighomena, has explained why the school was established in Oghara, headquarters of Ethiope-West Local Government Area (LGA) of Delta State.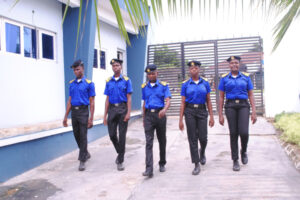 Speaking during the first matriculation ceremony of the pioneer cadets of the institution, Ighomena, a former Commissioner in Delta State, revealed that Oghara was picked because of its strategic location as a town bounded by three rivers.
"Oghara is bounded by Osiomo River at Ologbo end of Edo State, Jameison River at Mosogar and Ethiope River at Sapele end of Delta State," he said.
"The inhabitants of Oghara are predominantly traders, farmers and fishermen. Believed to be the deepest inland waterway in Africa, the Ethiope river, which originated from the trunk of a giant silk-cotton tree at Umuaja in Ukwani LGA of Delta State, transverse various communities as stream, becoming wider and deeper as it courses to Sapele through Abraka.
"At Oghara, it has become cavernous enough to harbor ocean-going vessels, which over the years, have resulted in a high level of maritime activities in the area."
Ighomena continued: "Regrettably, in spite of the presence of these maritime companies on the bank of the river, with high traffic of vessels, a good proportion of the youths of the area and other Niger Delta communities, do not possess the needed skills required of them to get employed by those companies and also onboard their vessels.
"All Nations IMT have been established to address the aforementioned problems and bridge the gap that has been created, with a vision to be a centre of excellence for the training of Master Mariners, seamen and technology of great repute for Nigeria and the globe."
According to him, ANIMT, which was first thought in 2016, was approved by the Federal Ministry of Education in September 2021, after accreditation by the National Board for Technical Education (NBTE) in same year, with a mandate to commence the 2021/2022 academic session without delay, in Maritime Transportation and Business studies, Nautical Science and Computer Science.
"We have students from different parts of the country, including Kano, Jigawa, Sokoto, Enugu, Bayelsa, Lagos, Edo and Delta states. Our vision is to be a centre of excellence for the training of Master Mariners, seamen and technologist for the maritime industry in Nigeria and across the globe.
"We have to equip graduates with the knowledge, critical thinking, problem solving, ethnical decision making and confidence that would enable them safely and to effectively operate, maintain, and manage the ships of today and the maritime industry of tomorrow.
"Our current training programmes include nautical science to train students on how to navigate a ship in the sea or ocean. The past six years have seen us through massive investment in the areas of building construction, furnishing, equipment procurement and installation, staff recruitment and training and hosting of NBTE team, among others," he stated.
Kindly like us on Facebook/twitter