Oluyinka Onigbinde
The Association of Nigerian Licensed Customs Agents (ANLCA) Tin Can chapter has inaugurated a compliance task force to tackle issues affecting customs agents and which are hindering smooth clearance of cargoes at the ports.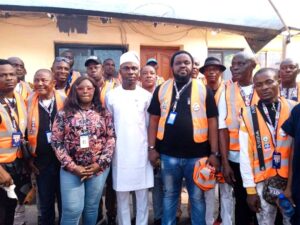 Speaking at the inauguration of the task team, the chairman of the chapter, Mr Ojo Akintoye, stated that the task force team will address such challenges.
While swearing-in the new task team, Akintoye urged the members to be good ambassadors of the association, even as he explained that the task team is just to assist the executives in carrying out its mandate.
He further warned that indiscipline among the new task team members will not be tolerated adding that the association as a professional body, will not tolerate any act that will bring shame to it.
"You are coming on board to come and serve, don't see yourself as superior to the executives, you are only coming onboard to come and help the executives
"We are not inaugurating you to come and forment trouble, if you have issues please get back to the executives and don't take decisions on your own. I am appealing to you that you abide by the rules and regulations and act like professionals" he said.
Charging the new task team, a member of the Board of Trustees (BoT) Mr. Eniola Igbaroola added that the task force is to interface between the clearing agents and government agencies, while also charging its members to carry out their functions with dignity and integrity.
On his part, the factional Zonal Chairman of ANLCA Western Zone, Mr. Femi Anifowoshe, urged the new task force members to be ambassadors representing the association and clearing agents in good faith.
In his acceptance speech, the coordinator of the task force, James Imodu thanked the ANLCA executives at Tin Can port for the privileged given to him to serve, he promised that the task force will abide by the rules and regulations guiding the association.
Kindly like us on Facebook