To have first-hand information about the real situation as regards traffic into and out Apapa, the Acting Managing Director of the Nigerian Ports Authority (NPA), Mohammed Bello- Koko, said he has had to ride on commercial motorcycles (okada) couple of times from Marina where the headquarters of the organisation is based to Apapa.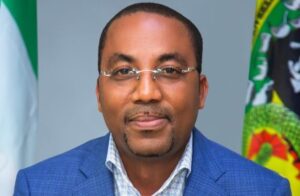 He said he took the risky decision of using okada because it was only through that means of transportation that he could have a bullseye experience of the chaotic vehicular traffic, so as to know the best approach to approaching it.
He said some of those decisions are responsible for the free flow of traffic currently being experienced by truck drivers, clearing agents and other stakeholders in the port city of Apapa.
Bello-Koko, while speaking exclusively with our correspondent during a strategic management retreat organized for the staff of the agency in Lagos last week, informed our correspondent that, as acting Managing Director of the NPA, he sometimes takes Okada to Apapa to monitor traffic and see things for himself, so as to ensure enforcement of rules and regulations, while noting that the drastic reduction in traffic in Apapa is not as a result of drop in volume of cargoes coming into the country, but as a result of consistent engagement with stakeholders.
He disclosed that as at the time he assumed office as the acting MD of the NPA, the Truck Transit Park (TTP); handlers of the electronic call-up system were yet to deploy some physical infrastructure and IT infrastructure.
Bello-Koko however informed that after assuming office, he mandated the operators of the TTP to do so and as well enforce it, even as he added that the agency also created some windows to make movement into the port easier.
According to him, "strategically speaking there is no drop in import, what we have done is, we ensure enforcement of rules and regulations, I have taken motorbikes to Apapa a couple of times, this week I was on a bike to Apapa; the other night, because I needed to see things for myself, I needed to see who is doing what, what I am doing is going there to see things for myself. Now.
"TTP which deployed eto, that's the e call up system, are supposed to have deployed some physical infrastructure and IT infrastructure, as at the time I assumed office they have not done so. So I mandated them to do that and enforce it and that has improved traffic. Also we have changed some of the route, we also created windows for movement of trucks into the port; when fish trucks get into the port and things like that".
"Want we have done is to put consistent effort, we have been holding meetings three times a week with the TTPs and stakeholders; so that's what has happened", he said.
Kindly like us on Facebook