The first National President of the Association of Nigerian Licensed Customs Agents (ANLCA); Dr Rafiu Oladipo has shed light on the actual age of the association.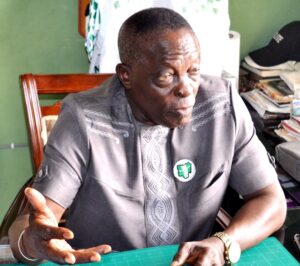 He told Shipping Position Daily exclusively last week that, contrary to the 1958 which current members of the association have been claiming as the date the association was formed, he said ANLCA was actually founded in 1986.
The ANLCA ex-President, who is also the President of General of Nigerian Football Supporters Club, went down memory lane to explain when, where and how the association was formed.
He said the association was formed right in his office. "The formation of ANLCA started from my office and I was the leader of the few people that were going from one office to the other before we put together ANLCA, after which elections took place and I became its first National President", he said.
He explained further that, "ANLCA was an association of those of us who believed that there was a need Also alluding to the fact that ANLCA was formed as an association for corporate organisations who have customs license, he said "actually, nobody is called clearing agents. Clearing agencies were companies that were licensed by the Board of Customs to practice the trade of clearing".
"We had an association that we felt all the Managing Directors of such companies are members; where decisions as to clearing and importation are taken", he explained further.
When asked about the confusion over ANLCA 's exact 'date of birth', Dr Oladipo said as the first President, he assumed office in 1986. "I became the first National President of the Association of Nigerian Licensed Customs Agents in 1986", he declared.
Shipping Position Daily recalls that, ANLCA has always claimed that it was founded in 1958. It is also boldly written on the association's letter head.
But Dr Oladipo said: "Let it be told that ANLCA of 1958 was an enterprise. This is an association that was founded and got registered with the CAC and I became its National President. So there is a big difference", he stressed.
He also assured that the crises that have rocked the association of a few years now, will soon be resolved.
Dr Oladipo disclosed that he had already commenced a reach-out to the warring factions, and that he would work with other former presidents to resolve the matter.
"It is quite very unfortunate that there have been crises in ANLCA in the last few years. As the first President, despite whatever happened, I feel very uncomfortable. As an association which I was party to its being formed and being the first National President, to be involved in this kind of leadership crisis is not an ideal situation. I felt disturbed when I heard of it", he told our correspondents.
"So I believe there is a need for me as the first National President to wade into this, and I am going to carry along all the other former Presidents. I have met with Tony Iju, Dr. Taiwo Afolabi, Kayode Farinto, and also spoken to Ernest Elochukwu",he added.
See full story on Page 7
Kindly like us on Facebook