The Barge Operators Association of Nigeria (BOAN) on Tuesday said that the association recorded less accident on the waterways in 2021.
Mr Daniel Eze, Public Relations Officer (PRO) of BOAN, made this known in an interview in Lagos.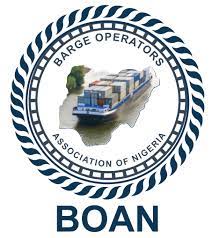 Eze said that if there was any accident at all, it was just a minor one, not like the one experienced in 2019.
According to him, the record is as a result of intervention on safety, compliance with directives and following the Standard Operating Procedures (SOP) of barge operators, Nigerian Ports Authority and other regulators.
He noted that the year had been very wonderful in area of safety on Lagos waterways as some government agencies had been very relevant in ensuring safety on Nigerian waterways.
"The year have been very great for us as an association, we thank everyone of us and it was better than what we experienced in 2019.
"In 2019, there was a big accident that occurred on the waterways and this lead to regulators looking into the operations of barge in Lagos waterways," he said.
Eze pointed out that in 2021, to secure their huge investment, the association reached out to other stakeholders and this lead to the association setting up an insurance outfit.
He said that the association extended hands of fellowship to the Maritime Workers Union, the operational arm of maritime, this was to ensure that their operations are seamless and consolidated.
"We set a steering committee on security and safety, have monitoring committee that goes to different jetties to ensure that operations at these terminals, outside port authority control are not just operating the way the want to operate.
"We also ensure that they align themselves to the SOP that governs the barge operations within Lagos pilotage district," he said.
The PRO said the association would unveil an app that would capture the movement of cargoes and containers, both export, import and empties, leaving Lagos port to different locations within and outside Lagos.
He said that with the app, they would have accurate data of containers moved from the port to other destinations adding that they had moved more than one million Twenty-foot equivalent unit (TEUs) in 2020.
"This means that we have helped to reduce the number of trucks that apply this Apapa roads by reducing it to one million. If you take off 500 trucks from Apapa road, you know what that means.
"It will reduce the congestion, traffic and help to sustain the road infrastructure that government was investing their money to maintain," he said.
He urged government to enforce the Cabotage law that actually give indigenous companies right to operate everything that had to do with inland waterways according to National Inland Waterways Authority (NIWA) Act.
He said that the challenges encountered had to do with double taxation, inability to access loan and others, adding that these tackled would help members to compete with foreign companies operating the business.
Eze also called on government to dredge the waterways, create a barge channel because more activities are now on the waterways.
"We have movement from Apapa to Ikorodu or Apapa to Badagry, these movements have increased and we equally have some other boats using the waterways, dredgers, fisherman, ferry passengers boat uses the waterways.
"So we want government to dredge the waterways so that with the competition of narrowing movement within a particular channels, we can open more channels so that the barge operations being higher than some of these crafts can have their own channel.
"If barges are forced to go through some of these channels that are not dredged with other users, it can lead to accident. If more channels are opened, there would free flow of movement on the waters," he said.
He said that in 2022, the association expect an increase in terms of patronage, urging government to partner with them and so that investors would be encouraged in barge operations.
"Government should also provide security on waterways, operators should operate within the stipulated safety guidelines and be involved in policy making as it regards maritime sector," he said.
Kindly like us on Facebook