Boat users who ply Lagos waters have lamented the dirty state of jetties in the state, this is even as they called on the Lagos state government to ensure sanitation of the jetties across the state.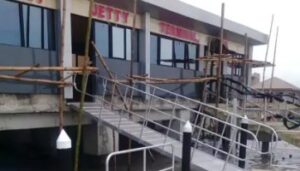 A stakeholder, Mrs. Olaitan Williams on her Facebook page had lamented the dirty state of the jetty, adding that safety measures must be put in place with the pilots wearing clean clothes.
She had said: "The journey by water to Badagry was interesting, I just love water transportation but my only complaint is that the jetty in Apapa must be conducive. Safety measures must be put in place, the jetty area must be clean, the pilots must be clean, friendly and above all there should be seats for passengers".
Our correspondent who visited some of the jetties confirmed their poor state, even as the boat and jetty handlers were seen looking unkempt as traders walked round selling all manners of goods.
For instance, our correspondent who visited the Apapa jetty noted that it was unkempt as traders and beggars struggle for space with the boat user, some of the traders were seen selling alcohol, oranges, food, among others at the jetty.
Our correspondent also noted that some of the food vendors throw their dirty dishes and wastes in the water caring less about the aquatic environment.
Our correspondent who spoke to some of the boat users was informed that the Apapa jetty has now become a mini market where all sort of things are sold.
A boat user who identified himself as Jude and a staff of Flour Mills lamented that the Apapa jetty has become an eyesore, adding that some of the ticket sellers have device a means by which they also sell their goods at all cost.
"This Apapa jetty is an eyesore; you can see for yourself, there is no need for me to describe the state of the jetty; seeing is believing, in a sane environment this won't happen, this is more or less a mini oyingbo market, we now have all sort of trade going on here, the ticket sellers now have their own trade too where they sell all kinds and at times when you give them N500 they will tell you there is no change, they know you won't want to waste time so you will have no choice but to buy the gala or biscuit they are selling and these people are the one's shouting our leaders are corrupt, what they are doing is that not corruption, NIWA and the Lagos state government needs to do something about this" he said.
Also a boat user who is a staff of Nigerian Shippers' Council (NSC) who pleaded anonymity also frowned at the dirty state of the jetty, stating that the jetty is not conducive for waiting, he noted that NIWA and LASWA have failed in providing conducive jetty for boat users.
"The jetty is not conducive obviously, anytime you come and you discovered there is no boat on ground, you feel sad because the place is not conducive for waiting, all you just want to do is to get your ticket and leave instantly, because it sometimes stinks and I think the regulators have not really done well in this area. I have been to Ghana and you need to see how conducive some of their jetties look like, some even have free wifi, you seat comfortable and work on your PC while you wait for your boat, what stops Nigeria from having such a jetty" he questioned.
Our correspondent who visited the Liverpool jetty also noted that the jetty was left unkempt this is even as boat users lamented the dirty state of the jetty and boat pilots
Speaking to our correspondent a boat user who identified herself as Tejumola Adeoti lamented that the boat pilots are unfriendly and looks unkempt, adding that some of the goods sold by the market women underneath the Liverpool bridge sometimes find their ways to the jetty.
"It is not just that the jetty is jetty the boat pilots too are dirty and they are unfriendly, when I told one to please reduce his speed while on water last week, he just frowned back at me and told me I should have taken a bus if I know I am scared of traveling on water, some of them address you because they know you can't do anything and this is very bad.
"Sometimes you get to the jetty and you find all kinds of dirt ranging from rotten fish heads to all manner of vegetables. This is too bad, because we just do things in this country as if we have no government" she said.
When contacted the NIWA area Manager, Mrs Sarat Braimah, informed that the authority has begun the cleanup of jetties across the states, including removal of water hyacinth, while informing that boat users are responsible for the dirty state of the jetty.
"The cleanup is ongoing, we are cleaning the jetties, if you go to some of the jetties today you will see that they are clean, we have also started the removal of water hyacinth so that's what we are doing, the boat users most times are the ones who dirty the place" she said.
Kindly like us on Facebook