The captain of a livestock carrier and the vessel have been taken into custody by Spain's Guardia Civil on charges of human trafficking. Spanish authorities suspect the captain was part of an organized crime ring that was exploiting individuals from Syria and other war-torn countries promising them transportation to Europe under the guise of working aboard the vessel.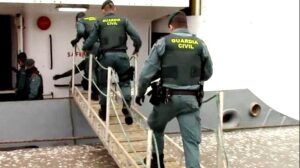 The current case began with collaboration and cooperation between European authorities. Spanish police were alerted to a scheme to smuggle people into the country on cattle boats. Two individuals were apprehended in the Spanish region of Mazarron. On closer investigation, it was revealed that they were Syrian nationals who had entered the country illegally aboard a cattle boat that was currently anchored off the coast at the port of Cartagena.
The two men told Spanish authorities that they along with as many as six to ten other individuals had paid up to €13,000 or 13,500 (approximately $15,000) and in exchange were signed on to the vessels for the voyage to Europe and listed on the ship's manifests as part of the crew. However, the two men said they had boarded the vessel since October and were forced to work aboard the ship. They did not believe there were going to be permitted to jump ship when it docked in Spain and hence came up with a plan to escape. The men feared that the smugglers were taking them back to the Arab world, where if they were discovered, they would be returned to Syria and turned over to the police.
Approximately 10 days ago, while the Elita, a 44-year-old ship converted to carry cattle, was anchored off Spain the two men jumped overboard and swam to shore. They told authorities that others were being detained aboard the ship.
Spanish police investigated and staged a raid on the vessel and ordered it on November 20 to dock in Cartagena. There, the authorities investigated the passports and work papers of the crew and found that at least eight sets were forged. It was determined that the individuals lacked training or qualifications to work aboard the ship. "They had apparently been forced to work on the ship under exploitative labor conditions," Spanish authorities reported.
Eight men have been released into the custody of aid organizations. The remainder of the crew is currently being detained on the ship while the investigation is ongoing. The captain has been arraigned on charges of human smuggling.
A further investigation shows that the Elita has been ferrying between Libya and Spain under the guise of transporting cattle. Spanish authorities said the vessel changed names at least three times recently and had more than 10 names and operated under a total of five flags. They believe an organized crime ring acquired the vessel as a tool in their scheme and registered it under flags of convenience. When the vessel was detained, it was registered in Guyana.
Kindly like us on Facebook