Dr Boniface Okechukwu Aniebonam is the founder of the National Association of Government Approved Freight Forwarders. In this (first part) interview with Shipping Position Daily, he opens up on sundry industry issues. He also throws his weight behind the recent CBN policy of the items that were banned from accessing forex, saying that the informal sector is being under-represented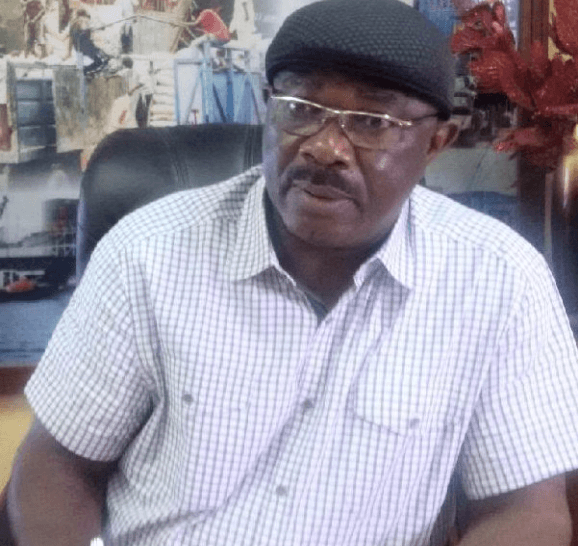 We're in the third quarter of the year. It's appropriate to take a look at the industry in the last three quarters and look at how we have fared.
Well, you cannot separate the port industry from the general economy of the country. Everything seems to be going bad. I guess that's why Mr. President's mantra is Renewed Hope for Nigeria. That means Mr. President himself and any other Nigerians acknowledge that things were not in order and so your advocacy now is Renewed Hope for Nigeria. So in the past it wasn't too good, but the good thing is that we're alive. Life is full of challenges. Your capacity to overcome is what makes you a man.
Does that mean that you are satisfied or dissatisfied with the way the maritime industry has been in the last ten months?
I wouldn't have been, if you look at what I've just said. One, I said you cannot separate it from the other economy. Narrowing it down to the maritime sub-sector, it has not being all roses. It depends on where you want to come from now. If you want to descend on trade policy, you can see the mischief of the former governor of Central Bank. He has got no reason to do what he did, especially on trade matters. Also for not being able to consult Customs when you are taking certain decisions, especially when you deploy executive orders. Going straight to the 43 items that were barred from enjoying forex incentives, and you never thought about the Customs position on that matter prior to the new Custom law, which is even more punitive. So you went ahead and barred this number of goods and you never made a reference to section 27, 28, 29 of the Custom law. That section was specifically on the issue of incomplete documentation and of course you know that every import to Nigeria must go through a registered form 'M'. So technically, when you bar them, it means the goods are barred, that's the meaning. So I guess that's why most Nigerians, especially the trading public, should be very grateful to Customs in their capacity to deploy discretion in managing the law. Because the law is made for man and not man for the law. To the contrary, it would have been a disaster. So that's one aspect and you can go on.
The 43 items have now been unbanned. Does that signify a new dawn?
Yeah, that is the mantra of Renewed Hope. If you are following the engagements, the mantra is Renewed Hope. The Renewed Hope is beginning to do things in the right manner. For instance, fixing people most appropriate to handle responsibilities. For instance, in the Customs now, you have a Comptroller General who is basically an international customs officer. You would realise this when you look at his résumé. So that's the right thing to do. If somebody like me is talking to Wale Adeniyi (CG of Customs), he would know that we know what he knows and what we expect him to do. As opposed to when Hameed Alli (former CG) was there. What does he know? And customs responsibility is highly technical. It's not a garbage in, garbage out. You must undergo the requisite training to be a revenue collector. You must! And then of course the enforcement aspect of it; it will take a minimum of six months to prepare you and then you begin to do other customs duties in relation to customs formalities. The manufacturers are against this policy.
Which policy is that? 
I meant the policy of unbanning the items. We want the authorities to really begin to talk of the manufacturers' association as it were. They are necessary stakeholders. But I hope that we shall come with clean hands. That would put somebody like me in a better position to speak for them. But I know I handle cargo and I know the incentive that we are giving to them. We are not abusing it. And so this can grow us into an aspect of greed. But I want you to look at the general economy. The informal sector is almost 70% of the economy. Because they don't have any person that sits down to compound their issues and present to government and so you give them all that name – "informal sector" and they are in the majority. The organized sector is very few. They are very good in compounding issues with data and statistics that cannot be verified and that have been part of the problem of the economy. So, but here we are. They are businessmen. So, you give it to them because it would have been better for them if it is only them that are doing business in Nigeria and not other person. This is because normally any human being can be a worker. That's why we have a regulator. The government should do the balance.
Some have actually argued that lifting the ban on export may further jeopardize our Naira.

If we are looking at strengthening our Naira and we are still an import-dependent nation, how do we then strengthen our Naira? Let's separate our discussion. Now we are discussing import. When we go to export, the right-thinking person should know that the more we do to export proceedings; we add more value to the weight of Naira. You don't need any person to tell you that. But then, of course, you know there are infrastructures, there are things you have to put on ground for those manufacturers in Nigeria to be competitive. And of course, you know they are not available. So, the 43 items is an added value now for Customs modernization. The biggest problem Custom has been going through is the issue of non-disclosure of imports. This is where the former C BN Governor; Emefiele committed atrocity. Because, for the fact that these consignments are not out-rightly banned, there is a provision of the custom law that allows customs to deal with such imports and impose a penalty, if they violate. Definitely, they are going to violate. So, most of the goods coming to the port, 75% of them are informal sector goods that are in confrontation with these provisions that we are talking about; this executive order. And so, this is where I repeat that the customs are the greatest patrons in Nigeria by exercising discretion to do what they are doing, by not seizing those goods. They are at liberty to seize the goods on premise of consignments, false declarations, wrong description of imports and the likes.  They decided to look at it from another angle; that these infractions are not like an umbrella. It is a trade-related matter which must be negotiated, resolutions reached and a penalty imposed, especially when they are trade goods. I am now talking about goods falling under Import Prohibition List.  This is high point of Tinubu administration, showing that he knows what he is doing. Now, the modernization of customs procedures will now force us, the practicing freight forwarders and importers to comply with matters of compliance to import regulations.
You have been talking about Tinubu administration's Renewed Hope and all of that. You seem to have confidence in him.

It is not about having confidence in him. It is about him doing what is right and if he does what is right, you acknowledge him. If he does what is wrong, you also say, Mr. President, this is not right. My party, NNPP, we are not an opposition party. Have you ever heard that from my mouth? You know me for years. What is an opposition? Well, in the context you use opposition, if it is constructive, it is okay. But the way we use opposition in Nigeria is that whatever the person in government does is wrong. No, you should be a responsible partner to the government and wait for another four years and then see what you can do, if you can get the conscience of the people to vote you into power. There is nothing really in it. Of course, you are dealing with human beings. Everybody has the motives on whatever they want to do. Of course, you know me for years. I am not into all this. What am I opposing? If you have any reason to do something wrong, I will tell you this is not right. And I guess that is a level one can adduce that I am one of the most misunderstood people in the world. You don't say me because we are in the pot, you know. I didn't say you are misunderstood. Controversy can be in a positive angle, it can be in a negative angle. So, maybe my own controversy, for me, that is my own judgment, should be on the positive side. Because, I mean, at 70 years, what else is it? What we need to do is see what we can do for the young ones coming up. We can't continue the way we are going. It is no coincidence that the mantra for this present government is hope, which is also New Nigeria. What a New Nigeria is also known for is more or less like you are appreciating the same thing that this new government is appreciating. That is the way going forward. Anything to the contrary is set back.
Let's take a look at the Council for the Regulation of Freight Forwarding in Nigeria. It is over about 10 months now since the last Registrar left and one would be wondering why it has taken so long to put in a substantive Registrar. What are your thoughts on this?

We will continue to repeat ourselves every day. But it is still okay. CRFFN started to fail. I told you before. You know, when you start to fail, it is difficult to recover. We started to fail. Nigerian Shippers Council started CRFFN to fail and these are the consequences. CRFFN is never an agency of the government. You see how it has ended because people want cheap money and they are there now. They have all abandoned the Council and ran away. So I don't know what you want me to say again. It started to fail and it is continuing to fail. Except that Daniel comes to judgement.. But I know a day will come when somebody will say no. Don't forget we are still in court; the case is ongoing. That's the advice of an agency of the government and I'm aware, I think something is happening in that sector now that the National Assembly may have refused putting them into a budget. And if that happens now, as it were, then funding will become an issue. Then the CRFFN will go down more and more. because there is no cake to share anymore.
Of course, Section 6 of the Act tells you what to do to generate revenue to run your administration. Look at ANLCA and NAGAFF, these two big organizations. They are avoidable oppositions even when there is nothing at stake, when we have a common goal, I've been telling them to come together to pursue a common enemy and you'll get it right. People like us, that is NAGAFF, we have tried to diversify and that's why we are making a new road into politics. The NAGAFF wing, which is the New Nigeria People's Party, has that now. So you know we have two Senators from that party. We have about 18 House of Reps members, and one Governor. So we are getting close to the government to be able to see whether we can push what we want. This is because you don't fight from outside. You don't. You may try, but it's okay. But how do you get it right? But now we are beginning to have people inside.
For instance, this issue that we are discussing, I can request to meet with my senators. Tell them, look, this is our problem and they will go there and take it up. I approach them and say, this is our problem because we are the parent body of the New Nigeria People's Party. And I can tell you definitely, when the dust settles down, everything will be okay.