The China Harbour Construction Company (CHEC) the construction company in charge of the Lekki Deep Seaport, has said the company will invest a total of $1.1 billion making the company the largest shareholder with 75% interest in the Lekki Deep Seaport expected to kick-off in 2022.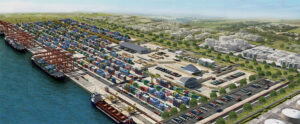 Speaking during a media tour yesterday, Mr. Steve Heukelon, the Chief Technical Officer of the Lekki deep seaport, informed that the CHEC will invest a total of $1.1 billion which will make the company the largest shareholder with 75% share, while the Lagos state government will have 20% and Nigerian Port Authority (NPA) with just 5%.
He informed that the concession period will be for a period of 45 years stating that the deep seaport will have an estimated aggregate value of $361 billion over the period of the 45 years.
Heukelon added that the project will offer a multiplier of more than 230 times of it's total cost put at $1.57bn.
Giving a breakdown of the level of work done so far, he said the dredging is already at 57.75%, Quay Walls already at 43.14%, the breakwaters at 63.27%, while the landslide is already at 27.83% totalling over 50% of work carried out so far at the deep seaport.
Speaking earlier, the Managing Director of the Lekki Deep Seaport Mr. Du Rougang, informed that. there are about 1,126 local employees accounting for 83% of people working inside the deep sea port.
Speaking further on the relationship with the host communities, he said the deep sea port has been providing basic amenities to the people in the community, such as construction of micro flush toilets, distribution of COVID-19 relief goods among others.
He said the Lekki Deep Sea Port will be one of the most modern ports in West Africa, offering enormous support to the burgeoning commercial operations across Nigeria and the entire West African region, adding that the port has the capacity to create over 160,000 jobs.
He informed that the port has reached 50 percent completion with the completion of the 1,909m long core of the main breakwater while work on the quay wall and landside infrastructure has reached advanced stages.
Ruogang also affirmed that the container terminal operator – Lekki Freeport Terminal, a subsidiary of CGM/CMA is ready to commence operations once the construction is completed.