A former permanent secretary, Ministry of Transport in Lagos state; Dr. Taiwo Salaam has raised alarm over what he called an impending congestion at the Lekki Free Trade Zone after the completion of the Dangote Refinery.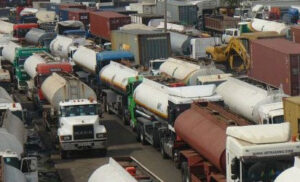 Salaam while speaking at the recent 3rd National Transport Summit of the Chartered Institute of Transport Administration of Nigeria (CIoTA) informed that over 3000 trucks are expected to flood the Lekki Free Trade Zone in Lagos state, owing to lack of pipelines mode of transportation that could move the products from the refinery to other parts of the country.
Salaam lamented that lack of policy direction in the transport sector has bedeviled the transportation sector in Nigeria, while bemoaning the attitude of the government to technical solutions often proffered by experts.
According to him, 'if we don't have policy there is no way we can go on regulation, and if we don't have regulations it affects the enforcement. So what do you want, when do you want it, how do you want it, that is enforcement, Nigeria is still turning like a parlor chair, we have not been able to achieve anything despite all the professionals that we are parading.
"On the issue of pipelines, pipelines also link with other modes of transportation, we can use pipelines to dredge and move sand away from water. We have an issue with the pipe plan. We need to link all of this together.
"Lekki Free Trade zone is four times the size of Victoria Island and its divided into four contracts. I happen to be the Technical chairman of Lekki Free Trade Zone; a very large company in free trade zone has built refinery; I advised that 50% of the products should be moved by ships and the remaining 50% we are going to provide over 3000 trucks to move them out on daily basis and I said make a pipeline towards the end of Ijebu Ode Ore road, where we have tank farms and from there you will not allow trailers to create congestion towards the neighborhood that they will pass before they get there, as I am talking to you, political sense outright my technical advice".
Kindly like us on Facebook