By Hari Menon
Trading centres of the world are separated by vast distances but globalization has brought them closer. Communication is almost instantaneous such as by phones, emails, and video calls. While this may be the case, goods still have to travel the distance between the seller and buyer.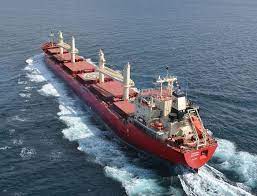 Modern transport equipped with the latest technologies is a far cry from the horse-drawn carts, steam locomotives, and steamships of the past. Transport, as well as the equipment used in the handling of cargo, are bigger, much faster, and more efficient these days.
Modern intermodal containers have revolutionized the goods transport scene. The largest container carrier HMM Algeciras can take more than 24,000 TEU!
Even as you read this, more carriers with increased container-carrying capacities are getting readied in the world's largest ship-building yards.
But can businesses across the world rely only on intermodal containers to transport their goods?
Grains, minerals, oil, etc. that need to be transported in large quantities are examples of goods that are often transported otherwise. They are stored as smaller units in the holds of a ship or on the storage areas on the deck. Such a consignment is called break bulk cargo.
A bill of lading of a break bulk consignment would normally show the commodity and its total volume or weight. The smaller units in which they are packed might be as bags, crates, barrels, pallets, etc.
Break bulk cargo is packed in smaller units for the ease of loading and unloading using cranes, conveyors, forklifts, or even by hand.
Cargo that is transported as break bulk is moved from land to a ship or vice versa by the above means, unlike a container that is pre-packed, sealed, and lifted from the quay onto the ship (or ship to the quay). Containers are loaded by gantry cranes that can lift such heavy loads.
Minerals, ores, oils, and gases are also transported loose. In such cases, they may be stored in large silos, containers, or special holds built on large ships.
Kindly like us on Facebook