"The construction work of the pipeline is well advanced, with 70 km of land already made available for the laying and welding of the pipes," said Sani Mahamadou, Nigerien Oil Minister, during a tour of the various oil installations throughout the country from 23 to 25 July.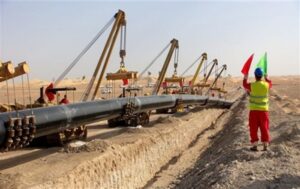 The Minister's mission ended with a visit to the Agadem and Zinder refinery sites.
In Agadem, the Minister was able to assess the conditions under which black gold is exploited. Out of about 300 wells, with depths between 2500 and 4300 m that make up the oil block, only about 80 are exploited. To this end, Sani Mahamadou noted the level of progress of the work of the Grande Autorisation Exclusive d'Exploitation (AEE) which covers 112 deposits.
The operation of the Zinder refinery (Soraz) was also appreciated by the Minister who took the opportunity to meet with employees and discuss their living and working conditions. The various units of the refinery namely the terminal station, the crude oil, gas and petrol pumps as well as the storage tank areas were visited, including the 33kv electric distribution substation, built in the vicinity.
Kindly like us on Facebook