In a sign of just how frenzied the container market has become, a freight forwarder is reportedly paying $135,000 per day for a short-term charter of the S Santiago, a 15-year-old container ship with a capacity of 5,060 twenty-foot equivalent units (TEUs).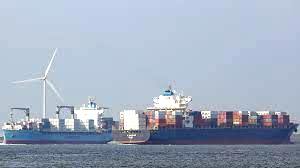 "Charter rates for short employment … have gone out of control," said Alphaliner in its new weekly report.
"Depending on the sources, the ship would have obtained anything between $100,000 and $145,000 per day, an absolute historic high. The name of the charterer has not been fully confirmed, although it is believed to be a forwarder."
An industry source speaking to American Shipper on condition of anonymity said the rate was $135,000 per day, the duration was 45-90 days (one round voyage with an option for a second) and the charterer was Chinese freight forwarder 3 Seas.
The source said that there is "more and more enquiry every day" with "people panicking now" amid "unprecedented times."
Alphaliner said that "this colossal rate is substantially higher than the already whopping $70,000-$90,000 per day — depending on the final duration — agreed recently by Hapag-Lloyd for a two- to three-month employment of the 4,308-TEU CMA CGM Opal."
The industry source told American Shipper that the S Santiago deal was concluded last week and that he wouldn't be surprised if a new record were reached this week.
According to U.K.-based valuation and data provider VesselsValue, the 2006-built S Santiago is owned by Cyprus Sea Lines and is currently valued at $38.48 million.
To put the enormity of the charter deal in perspective, the shipowner will earn back one-sixth of the ship's value in a single voyage — and one-third of the vessel's value if the charterer takes the option for the second voyage.