To control the spread of COVID-19, the Federal Government plans to vaccinate 111,776,503 Nigerians in two years.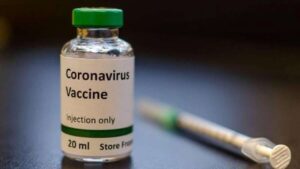 The National Primary Healthcare Development Agency disclosed this in a document last week.
It also disclosed that there were ongoing plans to organise special vaccination arrangements for Federal Government workers and retirees, amongst others.
Nigeria had vaccinated 2.5 per cent of the total eligible population as of Wednesday.
Vice President Yemi Osinbajo had at a briefing with journalists said only four per cent of the population would be vaccinated by the end of 2021.
There have also been moves by some state governments and the Federal Government to speed up the vaccination rate by issuing ultimatums to workers.
The notice from NPHCDA reads, "As part of efforts to interrupt the spread of COVID-19, the Federal Government of Nigeria through the National Primary Health Care Development Agency plans to vaccinate all eligible 111,776,503 Nigerians (18 years and above) with safe and effective COVID-19 vaccines over the next two years.
"A total number of 2260 vaccination sites have been selected and are currently vaccinating clients in all states of the Federation and the FCT.
"Also, as part of NPHCDA's strategy, we plan to make special arrangements for eligible staff of Federal Government Ministries, Departments, and Agencies, private/corporate organisations including retirees and dependents' family members to get vaccinated at their convenience."
The organisation said it now had mobile vaccination teams visiting markets, motor parks, churches and mosques, adding that the list of the sites had been published on its website.
Kindly like us on Facebook