The Council for the Regulation of Freight Forwarding in Nigeria (CRFFN), has commenced the 2nd batch of the Executive Professional Diploma in Freight Forwarding and Supply Chain Management which the council organizes in collaboration with the Institute of Maritime Studies, University of Lagos.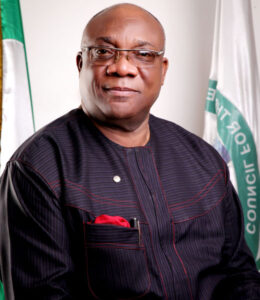 According to the CRFFN, the course which began on Monday will run through to Saturday 18th September, 2021 with different course features such as: Freight Forwarding in the 21st century, Digitalization in freight forwarding, Logistics models and transitions from 1st party to10th party logistics, Supply chain management, Transportation and handling of dangerous goods, Customs procedures as well as Incoterms and legal aspects of freight forwarding.
The CRFFN added that, while about 25 candidates registered to attend the course, only 22 of them were in attendance on the first the day, irrespective of the heavy downpour that greeted the city of Lagos.
The lecture commenced with the Director, Education and Training, CRFFN, Dr. Alban Igwe with the topic, "Freight Forwarding in the 21st Century".
Speaking to our correspondent on his experience with the lecture, the Chairman, Association of Nigeria Licensed Customs Agents (ANLCA), Cross River and Akwa-Ibom states chapter, Mr. Uche Ohaegbuchi described the course as "wonderful" adding that it was something they would have done earlier before now so that they would be able to train their members.
Ohaegbuchi noted that doing business in Nigeria was not easy but capacity building will help a lot to grow business especially when it had to do with freight forwarding and logistics chain management. "It is a wonderful development and in fact, we are just starting. Today is the first day and with what I have seen, I believe that subsequent lectures will be better than what we have had today", he said.
"We need this kind of programme, we just heard about digitization, digitalization and digital transformation. So, you see, change is one thing that is constant. The business is no longer what we used to do when we started in early 90s. In fact, when he (lecturer) started asking questions about when we started the business, I started laughing because I started when we were using bill of entry from where they introduced Single Goods Declaration where you go and type SGD, you go to bank and buy bank draft, all those things have been phased out. Everything now is online, ICT has a lot to do and you need to refresh your mind and you also need to be in tune with the procedures that are applied per day", he said.
On his part, Mr. Uzonna Iwu, who although has not practiced freight forwarding for a period of 10 years, but had to register for the course at the instance of his father, said he didn't want to miss this opportunity because "the more you postpone something like this, you will keep on procrastinating and the world is not waiting for you."
"There are things I haven't come across in my years of practice that I have learnt here today. The lecturer simplifies everything to our understanding, there are some things I didn't get to know about before I came here which I learnt and I know there will be more to come which I don't know about which I am going to learn. Since it is about digitalization which I will not say we are lacking but we are going to improve upon what we already know. So, with what I am learning now, I am going to improve more by the time I go back to my base to upgrade my skill", he added.
Also speaking, Dr. Alban Igwe expressed delight over the enthusiasm showed by the freight forwarders in taking up the programme and updating their knowledge.
He added that the course was robustly organized to equip freight forwarders in the 21st century ,so that they can practice and sustain their practice while urging those who are yet to register and participate in the course to do so in their own interest.
Kindly like us on Facebook