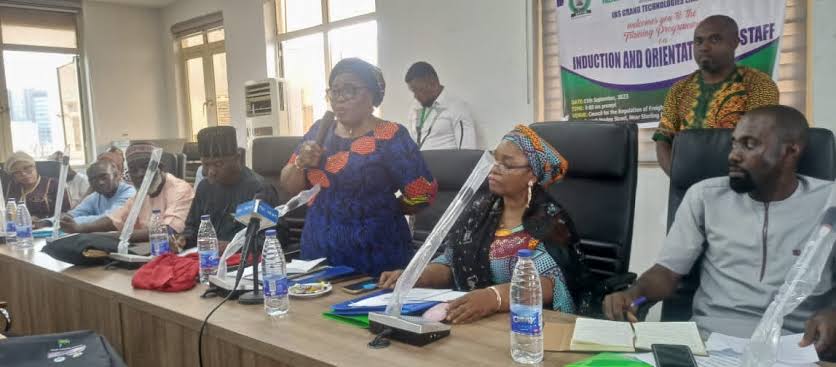 In a concerted effort to elevate the efficiency of its workforce, the Council for the Regulation of Freight Forwarding in Nigeria (CRFFN) organized its inaugural staff induction and orientation training event in Lagos.
This initiative, a collaborative effort between CRFFN and IBS Grand Technologies Limited, was under the oversight of Dr. Magdalene Ajani, the Permanent Secretary of the Ministry of Marine and Blue Economy.
During a conversation with reporters, the Permanent Secretary, represented by Mrs. Tetshoma Dafeta, the Ministry's Director of Human Resource Management, commended the induction course as an auspicious start to public service careers. Dafeta emphasized how this training mitigates errors among civil servants and uplifts workforce morale.
She stated that, "many individuals enter public service without a clear understanding of the rules governing their roles and government's responsibilities towards them. Through this induction, employees gain clarity on their duties and what they can expect from the government. Consequently, fewer mistakes are made, as employees are guided on the correct procedures."
Dafeta underscored the significance of adhering to the Public Service Rules (PSR), describing them as the cornerstone for government employees. She reminisced about her own journey into public service and the importance of preserving official secrets and refraining from discussing government business in public forums.
Dafeta lauded CRFFN for organizing this pioneering training programme and encouraged the council to continue such initiatives to enhance its output. She noted that the challenges public servants faced 25 years ago have evolved, with the Ministry of Transportation transitioning to digital work processes.
"We now operate online, eliminating the need for physical files, but our staff must be trained to keep pace with these advancements for improved productivity and service delivery," she added.
The Acting Registrar of CRFFN, Mrs. Chinyere Uromta, asserted that the training would shape the character and competence of the council's employees for more effective operations. She emphasized that CRFFN staff must provide quality leadership and regulatory services to bring Nigerian freight forwarders up to global standards.
"In the Civil Service, orientation and training are essential to ensure that employees understand their roles, ethics, and rules," Uromta stated. To further align staff with the Public Service Rules (PSR), she announced that the council had procured copies of the PSR for all employees at no cost to enable optimal performance.
Uromta also expressed gratitude to Mr Adegboyega Oyetola, the Minister of Marine and Blue Economy, and Dr. Magdalene Ajani, the Permanent Secretary, for their exemplary leadership and support.
Samuel Abalaka, the Lead Consultant at IBS Grand Technologies Limited, highlighted that the training would impart participants with a deep understanding of public service rules, culture, values, and ethics. He stressed that the program would equip staff with the knowledge, skills, and confidence to fulfill their responsibilities effectively.