The Comptroller General of Customs Col. Hameed Ali (rtd) has received an award for outstanding public service and national building during the Nigeria-Brazil Business Forum and Industrial/Farm Tour in Sao Paulo, Brazil.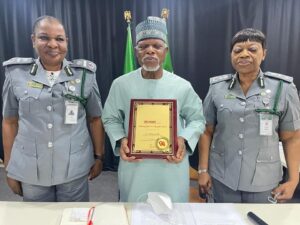 The award was in recognition of the CGC's laudable achievements toward economic growth and national development.
The event with the theme "Expanding Nigeria-Brazil Trade and Business Relations" took place from 4th to 7th May 2022 in Sao Paulo, Brazil to foster trade and sustained trade relationships between Nigeria and Brazil.
The leader of the delegation from Nigeria Customs Service at the event in person of ACG Lami Wushishi from the Excise Free Trade Zone and Industrial Incentives Department highlighted some of the reforms that have repositioned the Service leading to the effective delivery of its mandate.
The Minister of State, Federal Ministry of Industry, Trade and Investment led the Nigerian delegation at the event. Nigeria Customs Service, Federal Inland Revenue Service, National Automotive Design & Development Council, Ministry of Foreign Affairs, Nigeria Export Processing Zone Authority, Nigeria's Ambassador to Brazil, Brazil International Centre for Innovation & Agric Technology, and African-Brazilian Chamber of Commerce were some among the MDA's in attendance.
The Programme aimed to provide a unique chance for exploring and harnessing potentials that abound in the country with a key focus on oil & gas; Manufacturing, processing, Storage and Assembling, Agricultural products and commodities, Automotive plants and machineries, information and communication technology, small and medium enterprise and export.
During the event, the Federal Government through the Federal Ministry of Industry, Trade and Investment reiterated its commitment to the expansion of Nigeria-Brazil Trade as it seeks to facilitate and deepen economic, and trade investment opportunities between the Brazilian investors and the Nigerian government/investors.
Kindly like us on Facebook