The Federal Operations Unit (FOU), Zone 'A' of the Nigeria Customs Service (NCS), said it intercepted 68 pieces of military camouflage, 1,235 wraps of hemp weighing 1,163kg and others in January.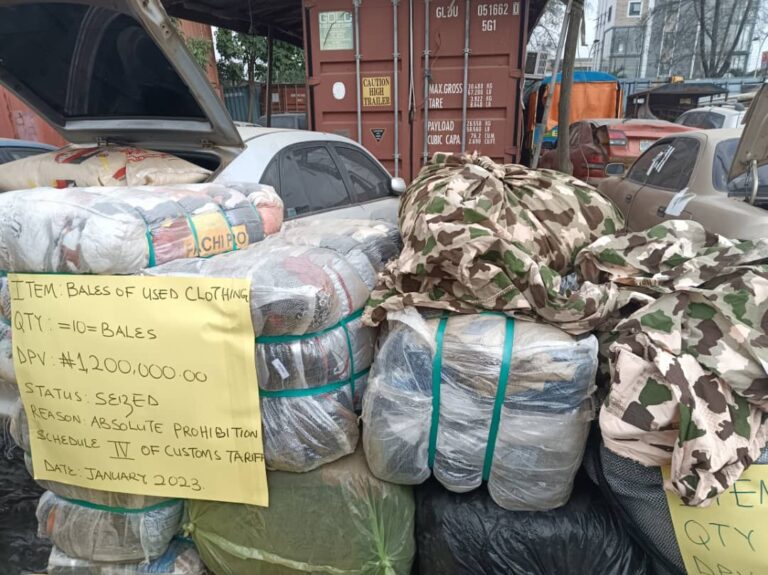 The Acting Controller of the unit, Hussein Ejibunu, said this at a media conference on Wednesday, adding that the seized items were worth N517.9 million.
He said the goods were seized along the borders within the South West Zone.
Ejibunu, while handing over the seized Indian hemp to officials of the National Drug Law Enforcement Agency (NDLEA), said the seizure and others were made by operatives of the unit in January.
"Considering the state of insecurity across the country and the forth coming general elections, the importation of Indian Hemp and military camouflage can be used to fuel crimes and electoral violence by unpatriotic elements.
"While the former is under prohibition, the latter is under the control and supervision of the Office of the National Security Adviser, which requires End-User Certificates.
"Members of the public are hereby, enjoined to key into the prevailing security concerns by providing useful and timely information that will expose and lead to the arrest of the enemies of the state," he said.
Ejibunu listed other seized items as 5,481 bags of 50 kg foreign parboiled rice (equivalent of over nine trailer loads), 47,750 litres of premium motor spirit and 314 pieces of used tyres.
Others are: 11 units of used motorcycles, 13 units of used vehicles and 450×106 kg drums of carbide (on detention).
He said 11 suspects were arrested in connection with some of the wares while three had been convicted for smuggling by the Federal High Court.
"Seizures recorded by the unit are a reflection of officers' commitment to duty, and no compromise posture in the discharge of our statutory responsibilities; aimed at protecting the national economy and preventing the importation of prohibited, and harmful goods.
"In continuation of our anti-smuggling drive and protection of revenue loss, this unit had re-strategised its operations and re-injected new schemes to tackle the economic menace caused by recalcitrant importers and agents.
"We have harnessed our human resources and logistics for the prevention of economic sabotage.
"We did not only re-strategise but our officers are urged to be more professional and keyed into the Service's Standard Operations Procedure (SOP), aimed at facilitating legitimate trade," he said.
He noted that in doing this, the service was assuring all compliant traders and importers that they had nothing to fear, while urging recalcitrant ones that its officers had been mobilised to arrest, prosecute and make them lose their wares.
Ejibunu added that the unit recovered N86 million as revenue, which had been paid into the federation account through the issuance of demand notices (DN) on Customs duties that were discovered to be underpaid.
shippingposition
Kindly like us on Facebook/twitter