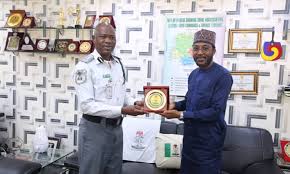 The Ag. Comptroller-General of Customs Bashir Adewale Adeniyi has expressed commitment to enhance the output of designated export processing terminals.
The Customs boss gave this assurance on Monday in Abuja when he received the Managing Director of Nigeria Ports Authority (NPA), Muhammad Bello Koko, and his entourage on a courtesy visit.
The Ag. CGC, who spoke about some recent developments at Lilypond, told Mr. Koko that the two organizations need to synergize to streamline the operations of the nation's seaports.
"We need to form a joint team that will engage other Government Agencies to refine the activities of exporting goods through the installation of trackers to avoid delays in the diversion of goods – and I want to assure you that the Management Team of the Nigeria Customs Service will work with you", he said.
While speaking earlier, the Managing Director of the NPA, congratulated the Ag. Customs CG, and sought his support to upgrade facilities at the Ikorodu Lighter Terminal and decongest Lagos ports.
Mr. Koko assured the CGC that once Lagos Ports are decongested, the facilities will attract higher patronage. He also called for synergy among the various Customs Units to enhance speedy passage of cleared consignment at the terminal.
The NPA Boss said, "We thank you so much for supporting the Committee that was set up. Members of this Committee have gone round the country."
He expressed worries over the congestion at the Port, which, according to him, makes it difficult for the Authority to operate properly.