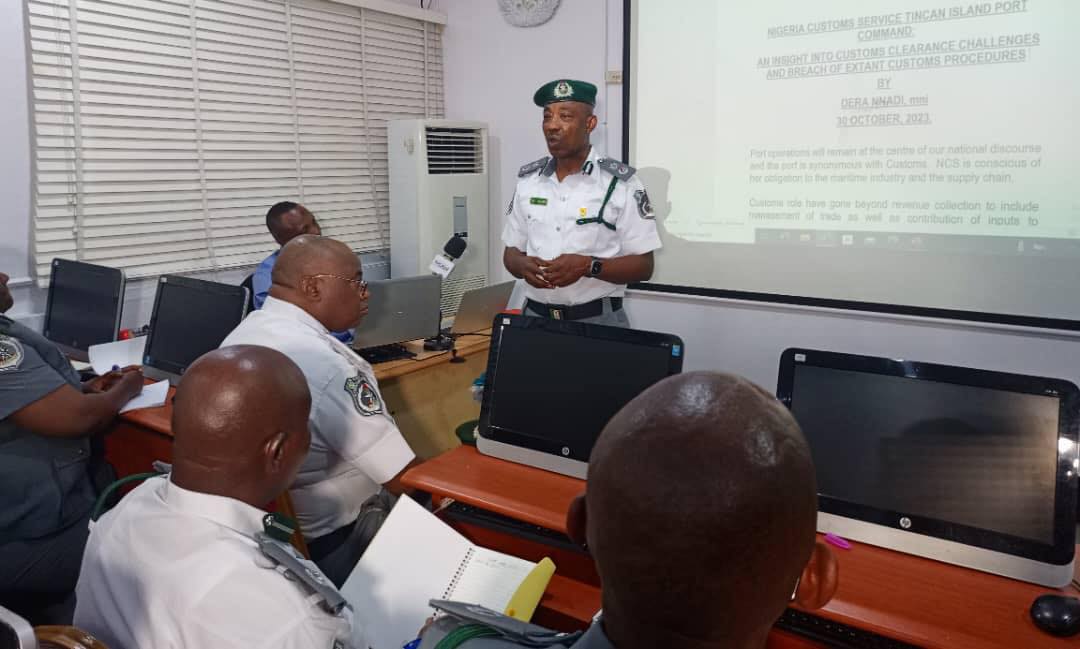 The Nigeria Customs Service, Tincan Island Port Command, has conducted training for Deputy and Assistant Comptrollers within the Command in an effort to optimize the performance of officers and keep them informed about the latest developments in port operations.
The training, which took place at the Command Headquarters on Monday focused on developments and challenges in the port environment, particularly at the Tincan Island Port.
Comptroller Dera Nnadi, the Customs Area Controller (CAC), presented a paper titled: "An Insight into Customs Clearance Challenges and Breach of Extant Customs Procedures." In the presentation, he harped on the dynamic nature of the port and the importance of staying updated on current developments. He also stressed the need to support compliant traders while discouraging non-compliance.
According to Nnadi, Customs' role has evolved beyond revenue collection to include trade management and contributing to government policies. How Customs personnel and stakeholders adapt to these changes is a significant part of the Customs clearance processes.
Comptroller Nnadi acknowledged the daunting task of generating the target revenue of N801 billion for the year, especially considering the current economic challenges. However, he emphasized that closing revenue leakages and promoting compliance among stakeholders and declarants are essential strategies.
Deputy Comptroller Gambo Aliyu, head of Enforcement unit at the command who also participated in the training, stressed the importance of the ongoing training and retraining. He noted that staying updated on modern customs techniques is crucial to ensure that the supply chain aligns with international best practices.
He commended Comptroller Nnadi as a versatile leader, leveraging his competence for the task at hand.