The Zone 'B' of Nigeria Customs Service Federal Operations Unit, said it intercepted smuggled goods worth N2.34 billion in 2022.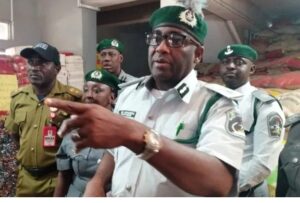 The Comptroller, Mr Albashir Hamisu, made the disclosure during an award ceremony on Tuesday in Kaduna.
The comptroller said that among the goods seized were 72 bags of Indian hemp concealed in sacks of cassava flour in Zamfara.
He said that the value of the seizures were higher than that of 2021 when the duty paid of the goods was put at over N1.3 billion .
Hamisu attributed the increased number of seizures to interagency collaboration, intensive patrol and effective intelligence gathering.
According to him, the unit will continue to renew its drive to save Nigeria's economy from smuggling and other related crimes.
"Some of the factors that led to our successes in our anti-smuggling operations in the year 2022 could be attributed to the following:
"Motivation and support from the NCS Management in terms of logistics, capacity building and welfare to boost the morale of officers and men of the Unit.
"Intensive patrol, doggedness and commitment of officers and men of the Unit as a result of effective performance management."
Hamisu said three suspects arrested in connection with some of the seizures were later released on administrative bail
The comptroller assured that the command would continue to go after smugglers, warning that smugglers that want to take advantage of the Yuletide would be in for a rude shock.
"I want them to know that our operatives are on red alert and vigilant to tame smuggling activities during the festive period with a view of arresting and prosecuting them.
"It is my humble advice to smugglers to turn a new leaf and embrace the Federal Government agricultural policy and massive investment in local rice production, so that they can create employment and boost food security in the country," he added.
On the latest seizures made between November and December, Hamisu said 161 contraband and illicit items worth over N351.5 million were intercepted.
According to him, items seized include 2,114 50Kg bags of foreign parboiled rice and 126 bales and sacks of foreign second hand clothing.
Others are 65 number of 25Kg bags of foreign parboiled rice worth N1.6 million and 818 cartons of spaghetti, macaroni and couscous valued at N5.94 million.
The rest are eight vehicles,102 cartons of carotone body cream,102 cartons of Eva soap, 69 pieces of 5 litres vegetable oil, and sacks of foreign used shoes.
Also seized were tomato paste, 13 sacks of hides and skin, 113 bundles of foreign textiles, 10 cartons of foreign chewing gum, seven 25kg bags of flour, 55 used tyres, 438 25 litres of petrol and 87 50kg bags of smuggled fertilizer.
The comptroller expressed appreciation to the Comptroller General of Customs and his management team for their motivation and support.
He also thanked security agencies, traditional rulers and other critical stakeholders, including the media.
The News Agency of Nigeria (NAN) reports that the 72 bags of Indian Hemp were handed over to Haruna Danga, of the He explained that the Marijuana hadwould be handed over to the National Drug Law Enforcement Agency, Kaduna command.
Meanwhile, ASC 1 K. Ahmed, was named Officer of the Year, while Bello Umar emerged as Officer of the Month.
Also honoured by the command were journalists who supported efforts at tackling smuggling in the zone, including Hussaina Mohammed Yakubu of NAN.
Awards and certificates were also presented to Motor Dealers Association of Nigeria, Kaduna State branch, traders, filling stations, and others.
shippingposition
Kindly like us on Facebook/twitter