The Dala Inland Dry Port, in Kano state which was commissioned by President Muhammadu Buhari on Monday has been designated as a Customs port, so says the Minister of Transportation; Mu'azu Sambo.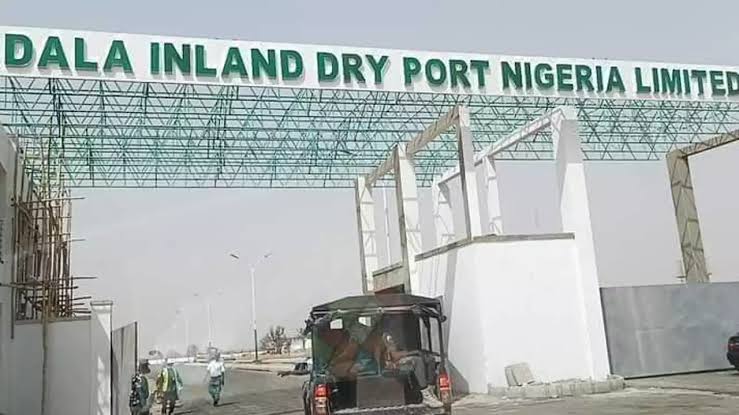 President Buhari had commissioned the port, despite earlier notification by the state government that the state was not safe fir the President's visit.
The President was received by the governor of Kano state, Governor Abdullahi Ganduje and the Minister of Transportation as well as the Managing Director of the Dala Inland Dry Port; Ahmad Rabiu.
The Minister recalled that in March 2006 the Federal Executive Council had granted approval for the establishment of the critical transport infrastructure at chosen locations across the country.
He said the infrastructure would undergo a concession to private sector operators on Public-Private-Partnership (PPP) with a strategic framework to Build, Own, Operate and Transfer (BOOT) model.
''Dala Inland Dry Port at Zawachiki in Kano State was among the six Inland Dry Ports approved and the concessioned went to Messrs Dala Inland Dry Port Nigeria Limited,'' Sambo said.
He stated that the dry port had been designated a Customs port with all the prerequisites of an international port including Customs, Immigration, Port Health Officials and Government security agencies.
The minister thanked Ganduje for his investments on infrastructural development particularly, road networks, among others, which had made the Dala Inland Dry Port a reality.
According to him, the port is a Port of Origin and Final Destination.
The minister called on national and international maritime practitioners, shippers, shipping companies, landlocked countries and port users to take full advantage of the facility for import and export of their cargoes.
Dignitaries present at the event include the Executive Secretary of Nigerian Shippers' Council, (NSC) Mr. Emmanuel Jime, Permanent Secretary Ministry of Transportation, Magdalene Ajani and the former Executive Secretary of Nigerian Shippers' Council; Barr. Hassan Bello.