African Continental Free Trade Agreement (AfCFTA) Co-champion on Transportation in Nigeria, Ms Funmi Folorunso, said there are no impediments to the take-off of AfCFTA in the country, even as she insisted that Nigeria has gone pass the sensitization stage.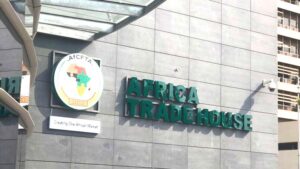 Shipping Position Daily had reported recently that, even though Nigeria endorsed the African Continental Free Trade Area (AfCFTA) very late, her active participation is currently endangered.
This is because the nation is yet to ratify all of the six mandatory protocols that are needed for all participatory countries under the terms and conditions.
The six protocols are: Trade in goods protocol, Trade in services protocol, Dispute resolution Protocol, Intellectual property protocol, investment policy protocol and Completion policy protocol.
It was confirmed that, Nigeria has only managed to ratify three of the six protocols, eight months after the AfCFTA kick-started.
Nigeria has only ratified: Trade in goods protocol, Trade in service protocol, and Dispute resolution protocol, but has failed in ratifying the Intellectual protocol, Investment policy protocol and Completion Policy Protocol.
But, sounding positive, AfCFTA Co-champion on Transportation in Nigeria, Ms Folorunso, said there was no cause for worries.
Speaking with our correspondent exclusively recently, during the National Executive Committee (NEC) meeting of the Association of Nigeria Licensed Customs Agents (ANLCA) in Lagos, she described the present stage as a call to action and draft implementation plan stage.
Folorunso stated that AfCFTA, if well-harnessed in the transport sector has the potential to create a two trillion figure market, adding that for every stage of each transaction AfCFTA is creating employment.
Shipping Position Daily recalls that the United Nations Economic Commission for Africa had estimated that the agreement will boost intra-African trade by 52 percent by 2022. The global body also predicted that with a successful implementation, there is potential for Africa's manufacturing sector to double in size from US$500 billion in 2015 to US$1 trillion in 2025, creating about 14 million stable jobs.
Meanwhile, the United Nations Conference on Trade and Development (UNCTAD) in a new report titled: "Implications of the African Continental Free Trade Area for Trade and Biodiversity: Policy and Regulatory Recommendations", stated that the new regime is facing some critical challenges which needed to be eliminated urgently.
It noted that unharmonized or burdensome non-tariff measures (NTMs) can dramatically restrict market entry, limiting the ability of countries to reap economic, social and environmental gains from trade in sustainably produced biodiversity-based goods and services.
NTMs are defined by UNCTAD as "policy measures other than ordinary customs tariffs that can potentially have an economic effect on international trade in goods, changing quantities traded, or prices or both".
UNCTAD also noted that the Intellectual Property Rights (IPRs) and institutional and legal landscape in Africa is complex, and IPRs issues may be challenging to negotiate at a continental level.
The UNCTAD also warned that Africa is yet to come up with a mode of payment that will be generally accepted by all nations.
However, reacting to these challenges Ms. Folorunso stated that the National Action Committee of AFCFTA is already looking into all of the issues that a general mode of payment for AFCFTA will soon be determined.
"They are not impediments, European Union was not a day's event it took a long time to mature, we have financial service unit just like we have transportation in National Action Committee, so they are looking at that issue of payment mode, even AfCFTA itself based in Ghana is also looking at universal form of payment. It is not something that can happen today or tomorrow, it is a constant thing that we involve, please let's be patient, but let's keep talking", she said.
Kindly like us on Facebook