Anchor
An anchor is a heavy metal piece attached to the chain cables and is stored or secured in the hose pipe during the voyage / ship operation. It can be either permanent or temporary with an additional sub class of sea anchors.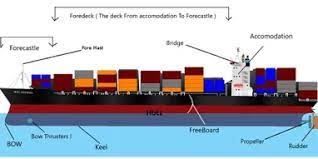 All ships carrying anchors are of the temporary type; as they are not always fixed to the same position and often lowered at different position depending upon need. Together with its chain cables, connecting devices, windlass and chain stopper it is called anchor gear.
An anchor is made of five major parts; shank, crown, stock, flute and tripping ring. A shank is a fixed stem structure which is fitted together with flute by the tripping pin passing through the shank hole.
Together; these connecting structures along with stack ( A crossbar that helps turn the anchor to assist flute to dig into the ground ) are known as anchor crowns. The fluke on respect is the key part of an anchor that actually dig deep into the ground to hold the ship in place.
Function: While most ships move from port to port; many have to wait outside for the berth. With increased shipping over time and growing number of ships, it becomes more and more common to wait for long for the berth.
So, to secure them in place against the natural forces such as wind and tide current; anchors are used in the ship. They act as a holding hand securing them to a definite place with their flute hooked deep into sea bed and weight of chain along with its resultant force keeping the ship fixed to its place.
Bow
A bow is the front most part of a ship which cuts the water along its sides as the ship proceeds. The key two requirement for a bow is to have; minimum drag possible or so-called resistance between the water and the ships hull and must be tall enough to avoid water splashing to easily on top of it.
In all the different bow types tested so far in the history only a handful of them pass the test of time; bulbous bow, Inverted bow and an Axe bow.
A bulbous bow is the one that you will see in most ships including that used for commercial shipping. It can be identified easily by its distinct bulging bulb like shape just under the waterline; and has an advantage of increased fuel efficiency of a ship by 10 to 15 percent.
On another hand, a ship with inverted bow design have its part of hull and bow; upside down much like that of a submarine with extended waterline. This on one hand improve its water drag while on another restricts its reserve buoyancy and speed in bad weather.
Such a bow type is usually used for ships involved in anchor handling, laying deep sea pipes and offshore. An Axe bow type have a vertically stem line hull structure; along with a deep Axe like structure in the foremost part of the ship. It is one of the parts of ship which due to its design capabilities; helps improve the speed of ship for same power.
Function: Have you feel that extra effort you have to make to walk through water? That is due to water drag and its resistance to your body motion. So to reduce similar negative forces on ships body; bow are placed on ship assisting easy propulsion.
Bow Thrusters
A bow thruster is a propeller like device fitted on both side of ships bow. It is used to increase the maneuverability of a ship in congested waters under very slow speed like that in canals or near ports.
For most designs you will only found a tunnel passing through ships bow with an impeller in place. It is for this distinct look; bow thrusters are also referred to as tunnel thrusters. The impeller can rotate in both direction; clockwise and anticlockwise generating bidirectional thrust capabilities.
Having bow thrusters greatly affects the overall running cost of a ship by reducing part of port cost for tug (a small boat used by port authorities to help safely dock a ship ) assistance. For ships having bow thrusters it is required to have proper markings on both sides above waterline.
These thrusters are mostly powered electrically using a prime mover attached to the impeller shaft using a bevel gear assembly. For some ships they are also powered hydraulically where electrical option is not possible or is unfeasible.
Function: A ship is maneuvered using propulsion and rudder angle variation. A rudder is a blade like structure situated at aft of propeller which moves horizontally across the medium to steer a ship. Rudder angle is changed by a value to get desired change in ship direction.
But what if the speed of ship is too slow to be effectively controlled by rudder angle? This is where the bow thrusters came into picture assisting captain to steer ship even at very low speed.
Accommodation
It is a place on ship where the crew resides or live. Together with offices, crew cabins, gym, prayer room ( Few ships ), salon, recreation room, laundry, hospital and galley it is the heart of a ship next to engine room and bridge.
A salon on board is the common area or living space for its crew, passengers and any visiting authorities to interact; and often include common room and dinning space. On another hand galley is just a nautical term for kitchen; where food is prepared.
Being one of the key parts of ship; accommodation accounts for major systems on board including; fresh water system, refrigeration system (domestic), garbage disposal system, sewage treatment plant and air conditioning for accommodation block.
Under international and local maritime laws of flag state it is required to have accommodation of all vessels including; passenger ship, cargo ship, salvage ship, tug and dredger above the summer load line situated aft or amidships of the ship structure.
Function: An accommodation accounts for the living space of the ship. Under maritime labor convention ( MLC 2006-2007 ); it is required by law to provide adequate accommodation facilities to ships crew and officers along with proper recreational facilities.
In this it is stated to have proper provision for safety, accommodation, health and accidents of crew on board ship. It is now required to have hospital accommodation, proper ventilation, lighting, head space, heating with adequate size of crew cabins.
Kindly like us on Facebook