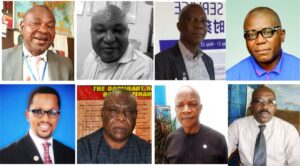 Stanly Ezenga (NAGAFF PRO)
Reviewing it now is at the wrong time. Even though they are despised for having reviewed their tariff, reviewing it at this particular time is uncalled for, because we are still smarting from the high expenses of the foreign countries. Now coming down here, you'll now increase your charges. That means the consumers will have to pay through their nose for those goods before they can get it. So increasing the tariff now is unacceptable. They have their reasons anyway. But then, as freight forwarders and logistics supply managers, we say this is not the right time for them to increase their tariff.
Festus Ukwu (Sec Gen NCMDLCA)
We are going to court against them. They are not supposed to increase their tariffs without the intervention of Nigerian Shippers Council and if Nigerian Shippers' Council is to increase any tariff, they are supposed to call the stakeholders and discuss it. There was no discussion, CRFFN was not involved. There was no arbitration with the customers. They just increased the tariff for what? We are preparing and we're going to court to stop it. The Shipper's Council will be going to court to stop it. That is our own stand on that particular issue.
Babatunde Mukaila (National Secretary ANLCA)
Whatever is the justification, the protocols were not properly followed. The agreement stipulates that whenever such intent is brought up by the terminal operators, stakeholders meeting must be called and a consensus will be reached. But in this instance, they woke up and then did the increment on their own. It is not acceptable. The Executive Secretary of the Shippers' Council has called a meeting and they are demanding a reversal that a proper meeting should be called and tell us why there's an increment and they will need to convince the stakeholders.
Segun Oduntan (Customs Agent)
Before any increment, you must first meet with the stakeholders. Let them know your position and the reason you are doing that. You should not just come on air and announce increments. You have to talk to the stakeholders and there is a regulatory body which is the Shipper's Council. They have to be there as an observer. They must bring everybody together not that you just wake up and announce increment. It is people that are supposed to pay and they are supposed to be carried along with the reason why they are paying.
Dr Segun Musa (Freight Forwarder)
There is a justification for increment, but there's no justification for 50% increment. The current situation in the country requires that there is need for the review of tariffs and it has to occur with human face, it has to be a realistic increment. Realistic increment in the sense that you put a lot of measures in place before considering what is suitable as an increment, otherwise it will have a multiplier effect on the already over inflated economy. Stakeholders need to engage, discuss and review what should be the mechanism to be put in place to ensure that we're able to justify any increment that will not add to the suffering and the economic hardship of the common man.
Jonathan Nicol (President SALS)
Some freight forwarders support of the terminal operators is amazing, including the Maritime Workers' Union of Nigeria. Shippers are not against increase of rates and charges neither will the Nigerian Shippers' Council refuse genuine increase of rates and charges. Shippers are against violations of regulations as laid down by the Federal Government through the Nigerian Shippers' Council. The NSC is empowered to discuss and agree on new rates and charges to be introduced to the shippers who will eventually pay the bills. Some of the freight forwarders supporting this move may have forgotten that, as agents, they are to protect their clients and not to commit the shippers in payment of arbitrary increases without approval from the port economic regulator.
Simeon Nwonu (Freight Forwarder)
I will say Yes and No. It is yes because we are in a country where prices of things, services, and commodities are going up and one cannot expect the tariff to remain stagnant. When there's a general increment in services and products, that is the kind of thing you'll expect. The only unfortunate thing about the whole thing is that there is no regulatory instrument.
Dr. Increase Uche (NAGAFF President)
We have not seen any increment, but they have to. We have an agency of the government that is saddled with the responsibility of taking up the criteria and looking at the merit of the proposal which is the Shipper's council.
As a freight forwarder, the only justification I will give is that the economy at the moment is affecting every other business, looking at the exchange rate and cost of living, prices of materials have also gone up. So if there is a reason to increase tariffs, there should be justification for it. You don't just add cost without adding value in terms of service improvement and efficiency by the terminal operators.