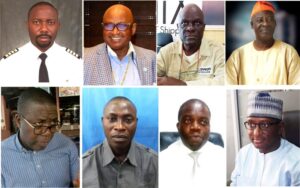 Captain Waredi Eniosuoh
It is the people who are investing in the assets that can tell you the situation of things. They are the only ones who can tell you if it can work. Having assets to go after the situation is definitely a good move. But there is no system that can give you a hundred percent accuracy. Everything they deploy or apply goes a long way, but they should not localize the assets.
I think apart from deploying the assets, there is a need to back them up with intelligence. This is because assets are very expensive to run. Definitely no doubt, NIMASA has done a very good thing by heading for these things. They are doing their best. It is commendable.
Dr MkGeorge Onyung (President SOAN)
I cannot really answer how effective the Deep Blue assets will be. We thank God that they are here and since they are here, they should deploy it. We have been told times without number that they are coming and we have been waiting for them to come. Now they are here.
If they are deployed, we believe that the purpose; which is to reduce piracy on the sea will be addressed.
Captain Alao Tajudeen
I'm very optimistic. It will reduce piracy on our waters, because what we have there is of international standard. The fact that they know the assets are there is a big deterrent. So I am very positive. They are not working alone they are working with other security agencies and international stakeholders. It's a big and positive signal.
The assets cost a lot of money. The budgetary position to maintain it is what should be our concern. What we have is fantastic. I will simply say that Nigeria is now on ground, the Director-General has tried in that aspect.
Captain Adewale Ishola
From the available infrastructure, when they are deployed and manned by the right people, I think it should reduce piracy and robbery issues to the barest minimum. If they are able to deploy the assets and they work round the clock, with all the necessary logistics provided, I think we will be taking the right steps and the international community will be happy with us.
I know that in the Gulf of Guinea, some other foreign countries are already helping to patrol. So, that will just complement what NIMASA and the federal government want to do. I think it's a positive development.
Captain Deji Abegunde
That will be predictive, it would be as if someone is studying their movement and whatever they are doing. If only they can sustain it, then it will reduce piracy. This might be like what they did the other time that they employed lots of people and put them at the toll gate and at the end of the day, it fizzled away.
This may look like just making news and disappear with the tide. If they are efficient and the people are willing to maintain it, then it will reduce piracy and create employment opportunities. But for now, the motive behind it and the people managing it will be responsible for its effectiveness.
Engr Mathew Alalade
My opinion is that, let us see how it works. It is one thing to acquire the assets, it is another thing to operate and maintain it. In terms of curbing piracy, I think the deployment of the assets will help.
But NIMASA should utilize them well so that there would not be any official lapses in their operations. This will make them very effective.
Capt Tunji Brown
The plan to deploy the Deep Blue Assets by NIMASA is a step in the right direction, which has been long overdue. I am very optimistic but with caution.
This is because the Deep Blue Assets by NIMASA must be sustained in order to actually curb piracy on Nigerian waters.
Aminu Umar (Shipowner)
Well, I am sure the Deep Blue assets will curb and reduce piracy in the country and the entire Gulf of Guinea. We have seen where such is deployed and it reduced piracy in such country. An example is Somalia.
We all know what Somalia used to look like before. It is the same also in Angola. Piracy has reduced in these countries. If the Deep Blue assets are well harnessed, I believe it will reduce piracy drastically in the Gulf of Guinea.