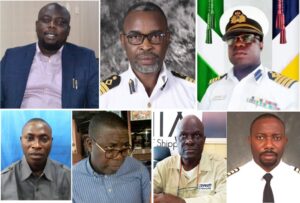 Emmauel Maiguwa (President Alumni MAN Oron)
We are of the opinion that it should retain its name as Maritime Academy of Nigeria, Oron, but upgraded to a degree-awarding institution, similar to other Maritime Academies in the world. Most of these institutions are degree-awarding but did not change their names to university due to their core and peculiar mandates. As a degree-awarding maritime Academy, restructured and strengthened, equipped with state-of-the-art training facilities, and adequately funded, the Academy can further expand its curriculum to cover courses covering the maritime and offshore oil and gas industries. In addition, it can offer parallel degree and professional license courses for different streams of students based on their individual career choices. This is the practice in many parts of the world.
Engineer Bob Yousuo (President, NMOWTSSA)
Definitely yes it will. It is a welcome development. After all, the Regional Maritime University Ghana, is a university standard and they are doing well. Upgrading has nothing to do with the products. What matters most is that upgrading will involve additional courses but retain the core courses that is, Navigation/ Nautical Science and Marine Engineering which needs pure practical experience (Sea time). If they are able to make their link and bring in training vessels, it will be okay.
As they are upgrading the academy, let them upgrade the facilities and bring in training vessels and other equipment. The management should keep upgrading and not abandoning it after upgrading. Upgrading will give us a wider area of coverage in terms of studies. I think this is the first maritime University we have got.
Captain Alfred Oniye
That is the best decision. MAN Oron really needs upgrading and if they are doing it now, they are taking the right decision and they can still do better. This is what we have been waiting for because MAN Oron has been operating below standards. How do we tell the world that the academy produced a cadet that cannot even draw and label a ship or cannot plot a chart? Upgrading it will go a long way and have a lot to contribute to the nation. As a matter of fact, I prefer that the funds spent on sending students outside the country to be channeled to MAN Oron.
Engineer Matthew Alalade (Former President, Merchant Navy)
I support the upgrading of the Academy. I believe it will help, but the status quo which is the maritime courses should not be tampered with. They should continue with that. It is just like the way we have a Maritime University in Ghana too. It is better for them to upgrade it. It will boost activities in that State or region.
Captain Deji Abegunde
My opinion is not even about thinking of upgrading the Maritime Academy. With the population of Nigeria, we are supposed to have nothing less than 20 Nautical schools. If you consider the population and territorial mass of UK and look at their Maritime institutions, you will realize that Nigeria is supposed to have nothing less than 20 Nautical schools. The maritime industry in Nigeria is not making progress as it supposed to. But they want to upgrade, I don't have anything to say about that but we have Ayetoro and all those places down to Calabar, we only have two Maritime institutions and even the second one is feeble. Let's say it's only MAN Oron that we have in Nigeria that is only recognised. We are talking about unemployment but they are creating bottlenecks. The Ministry of Transportation and NIMASA should talk about improving the level of our competency. But they are not doing that
Captain Tajudeen Alao (President, NAMM)
Yes, I agree. Degree awarding Maritime Academy is the new thing worldwide. If the academy is upgraded the graduates will not be shortchanged. The best students are admitted to Maritime industry while other graduates will not have inferiority complex.
Job opportunities ashore in Maritime, Shipping and Government will be open to the students. They will not be limited in job search and can further their academics as lecturers to PhD level. A seafarer will be able to change his or her career to become a Maritime lawyer or Maritime journalist.
Captain Waredi Eniosuoh
The upgrade is okay provided it goes with the clauses that support the development of the Maritime Academy of Nigeria. You know that the academy is being funded externally. It is not a self-funding institution. As a university, if it becomes a self-funding institution, it will be very difficult for the academy to develop the way it is now. Oron enjoys external funding which keeps them at peace in terms of improving for the institution. If it was relying entirely on students paying fees, then it would have been difficult entirely.
Maritime issues are not cheap. Even the instructors that you have to hire are specially trained people so they don't come cheap. The only way out is to improve the school fees tantamount to its provision. Then, in this case, the fees will not be affordable to the ordinary person. These are the key issues. I just pray the upgrade carries with it the clauses on ground which is to be funded by the parastatals under the Ministry of Transport.
Kindly like us on Facebook