The Flag Officer Commanding (FOC), Central Naval Command, Rear Adm. Obinwanne Egbuchulam, said efforts of the Nigerian Navy, have reduced criminality in its maritime domain.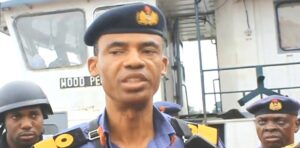 He stated this at the 7th Annual Public Lecture of the Federated Correspondents' Chapel (FCC) of Nigeria Union of Journalists (NUJ), Bayelsa Council, which held at Conference Hall of Matho Crystal Hotel, Yenagoa.
The News Agency of Nigeria (NAN) reports that the theme of this year's lecture is "Maritime Security: Implications for Nigeria's Oil and Gas Industry".
The FOC, who was also the Guest Lecturer, said in order to ensure that trade and commerce took place within the maritime environment, and by extension, the Gulf of Guinea unhindered, all forms of criminality must be dealt with.
Represented by the Commander NNS Soroh, Commodore Patrick Effah, Egbuchulam said maritime insecurity manifest itself in illegal bunkering, piracy and sea robbery.
"The Nigerian Navy personnel have been wonderful, they have been out there performing their duties, checkmating maritime illegality.
"One thing illegality does, it undermines revenue generation for the country, ships wouldn't come into our water readily when they do, high insurance premium is paid, he said.
The FOC said that piracy and sea robbery were high between 2010 and 2012, but with the acquisition of warships and helicopters the job of naval personnel has been made easy while tackling criminal activities within the waterways.
On his part, the Chairman of the occasion, King Bubaraye Dakolo, the Ibenanaowei of Ekpetiama Kingdom, said maritime insecurity was a serious issue that needed to be tackled in all spheres in the Niger Delta.
He said security was a serious business and should not be left for the security agencies alone but that all hands must be on deck for that to be actualised.
In their goodwill messages, Chairman of the FCC, Mr Chris Eze and the Director-General of New Media to the Governor, Mr Kola Oredipe, said the annual lecture has been meeting its desired expectation.
They commended the sponsors of the lecture series and the committee that put the programme together and also those that graced the event.
On his part, the Commissioner for Information and Orientation, Mr Ayiba Duba, praised the FCC for coming up with the topic that concerned the state and the region.
On his part, Mr Morris Alagoa, Head of Environmental Right Action, said because of kidnapping and other criminal activities people were not moving freely in the waterways anymore, unlike before.
In his goodwill message, the representative of Shell Petroleum Development Company, Chief Owei Bubo, said it was a right strategy for them to help society through the oil and gas industry.
He said the world was gradually moving from oil and gas to renewal energy which would soon take over the sector.
Kindly like us on Facebook