By Joshua Yousouph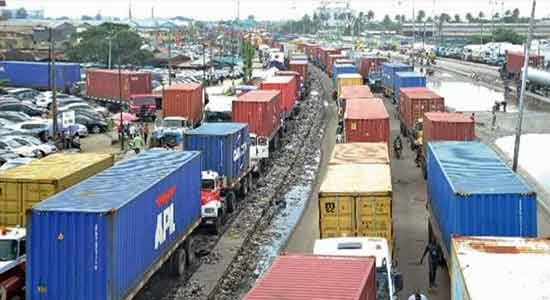 Investigations by Shipping Position Daily have revealed that the Lagos Ports access roads have continued to be mired in a persistent quagmire of extortion and corruption, even as the electronic Call-up booking system code-named "Eto" is being exploited by unscrupulous actors in the logistic chain.
Speaking with many truck owners and drivers last week, our correspondent gathered that the core of the issue lies in the highly entrenched culture of bribery and illicit payments where the electronic call-up system designed to streamline the entry of trucks into the ports is being abused as corrupt officials demand substantial sums to circumvent the process.
The truckers disclosed that a system of intermediaries has emerged, whereby individuals book the eto numbers, then sell the booking and their vehicle plate numbers to truck owners seeking to avoid the long queues. According to them, the prices are negotiable, depending on the urgency and demand.
They also revealed that some individuals fraudulently procure multiple eto booking numbers, which they book with trucks and then provide to the highest bidder.
Mr. Adebayo Adejumo, a truck owner and member of the Association of Maritime Truck Owners (AMATO), disclosed that the Eto booking system is being bought and resold often at inflated prices to trucks who seek quick access to the ports.
According to him, this unethical practice has allowed those who compromise the system to gain priority access to the port, while those who adhere to the rules and regulations experience significant delays.
Adejumo explained that the Eto call-up system should ideally cost between N15,000 to N20,000, but corrupt officials or vendors are demanding higher amount, sometimes as exorbitant as N70,000 to N80,000, to allow trucks to skip the queue and enter the ports directly. He lamented that those who abide by the law face significant delays of up to two to three days from Lilypond Truck Park to Apapa Port.
The AMATO member alleged that corruption is pervasive and involves various state actors, including the Police, Road Safety and Lagos State Traffic Management Authority (LASTMA) officials. He alleged further that these agencies operate as a joint task force, collecting bribes at multiple junctions and sharing the spoils after closing hours.
He specifically added that truckers are forced to pay bribes at these checkpoints, particularly at locations like Mr Biggs junction around Creek Road in Apapa to access the port. Adejumo also alleged that government officials are aware of this extortion as many are benefiting from it.
"There is a serious extortion there. That's what is going on at the two ports; Tin Can and Apapa. When you have your call-up, you go inside Lilypond, and they call you out. You will not spend much or not even spend anything. They will be passing you. But those that give them money to pass them directly will get call-up, but they will not enter inside the lily pond, but they will come directly to the ports. Call-up is just within N15,000 to N20,000. But they will not go and buy call-up for as high as N70,000 to 80,000 and go straight into the port. So that they can do three to five works at the expense of those who obey the law. When they discover that people are coming to them and giving money, they stop those that obey the law that are from Lilypond.  Those that are giving them money, they will be passing them.
"Lilypond to Apapa does not take up to 10 minutes. But you that obey the law and did all the necessary things you are asked to do it can spend like two to three days before you get to port. That is if you are export truck but if you are a Flatbed truck, you can get to the port within a day when they pass. The problem is that, they just park you inside Lilypond and they will be passing those that are giving them money. So the level of corruption is still high there", he said.
On his part, another truck owner, Mr. Kunle Ajayi noted that individuals have taken it upon themselves to bridge the gap between the booking process and truck owners, providing a 'work-around' for those who cannot afford the luxury of time.
Ajayi said in order to safeguard their business and from the cumbersome queuing processes, many truck owners have opted to seek alternative methods where intermediaries sell booking tickets along with the corresponding plate numbers to the highest bidder. He stressed that the Eto booking system has an expiration time, and if too much money is invested in a number that goes unused, it results in a loss.
According to him, the genesis of this 'by-pass' system stems from a common issue faced by truck owners where after booking and payment, some trucks may encounter mechanical issues, rendering them immobile. Ajayi stated that to prevent the money spent on booking being lost, truck owners negotiate with others, exchanging plate numbers to allow a different vehicle to access the port.
The truck owner however opined that the practices have provided a measure of relief for those who are tired of enduring long queues and paying excessive fees. He added that the price for these shortcuts is not fixed, but subject to negotiation, depending on urgency and demand.
In his words: "There's always a way out in business, if you are really serious about your business. There are some people between the booking and the truck owner. Most of the truck owners don't wait to do all those queuing processes again. Some people have about five to six numbers with them. They will book it, sell the plate number and give it to whoever wants to buy it. The price is not fixed. It is based on the power of negotiation. Some people will have like five and they will book the five numbers with any truck, remove the plate number and then give it to anybody that is coming, just to check out and start going. So, there's always a way out in every system of business.
"If you are a serious business person, anything that will make your business hurt or being frustrated, you should know how to get rid of it. You should know some level of shortcut. So to me, you are not cheating anybody. You are not frustrating anybody. Even those people who are smart enough to register one or two numbers, it is their choice. If you can wait, go and queue. If you cannot wait, then go and purchase and get a readymade booking".
When contacted, the Administrative Secretary of AMATO, Bala Muhammed confirmed that these corrupt practices are prevalent among government officials, vendors and truckers. He informed that there are two prominent call-up systems – Eto Call up system alongside an alternative system known as "Pay as you go" Call up.
He explained that while the Eto Call-up system aims to create a more organized and efficient entry process, the "Pay as you go" system introduces elements of corruption and extortion that further complicate access to the ports.
"Yes, we still have corruption along the ports access road before trucks can gain access to the ports. We have two types of call up. We have the Eto Call up and TTP and the Pay as you go Call up. If you do not pay the "Pay-as-you-go" they will not allow you pass the check points gaining access into the port" Muhammed said.