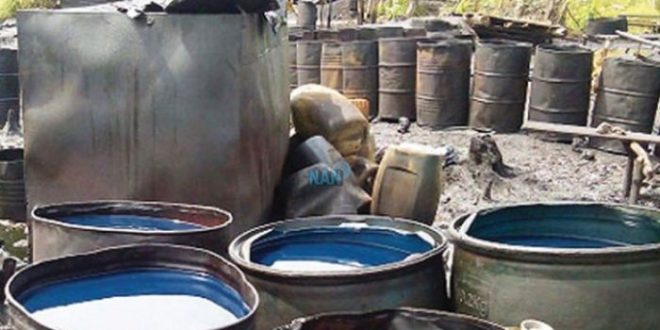 The Federal Government, on Thursday, stepped up efforts in tackling crude oil theft and inaccurate measurements by signing the Nigeria Upstream Petroleum Measurement Regulations, 2023, and six others into law.
Nigeria has been faced with massive crude oil theft, losing billions of dollars to the menace, though the Nigeria Upstream Petroleum Regulatory Commission believes that about 40 per cent of the volumes referred to as losses are actually due to inaccurate measurements.
It, however, stated that its latest regulations would address cases of inaccurate measurement, as well as help in cutting down oil theft in the Niger Delta region.
The Chief Executive, NUPRC, Gbenga Komolafe, who signed the regulations into law on behalf of the Federal Government in Abuja, stated that the seven regulations that were signed into law on Thursday were part of the 13 draft regulations that were presented for discussion during the 1st, 2nd and 3rd phases of the commission's consultations with stakeholders between 2022 and 2023.
"It is with great pleasure that I now announce that seven out of the 13 draft regulations have been concluded and are now signed into law," Komolafe stated.
At the ceremony, the Executive Secretary, Nigeria Extractive Industries Transparency Initiative, Dr. Ogbonnaya Orji, stated that the country had lost over 619.7 million barrels of crude oil, worth over $46bn since it started oil production, and attributed it to theft.
He expressed hope that the latest regulations by the NUPRC would help in curbing the menace and encouraged the upstream regulator to ensure strict implementation.
Responding, the NUPRC boss stressed that though about 40 per cent of the alleged crude losses were due to inaccurate measurements, the commission through its new regulations would nip the development in the bud.
He explained that the Nigeria Upstream Petroleum Measurement Regulations, 2023, would "close the metering gap in upstream petroleum operations; encourage accelerated meter roll out; and encourage the development of independent and competitive meters used in the upstream oil sector."
Komolafe said the regulations would also attract private investment in the provision of metering services, provide for the regulation of the measurement of petroleum produced, and ensure accurate measurement of petroleum as a basis for the calculation of petroleum revenue accruable to the government.
"It will also define the requirements for the design, fabrication, manufacturing, testing, calibration, operation and maintenance of upstream metering equipment," he stated.
He said the second regulations, Production Curtailment and Domestic Crude Oil Supply Obligation Regulations, 2023, would provide the general rules for production curtailment and utilisation of the produced petroleum in relation to export and domestic crude oil supply obligation pursuant to sections 8(c) and 109 of the Petroleum Industry Act.
For the Frontier Basins Exploration Fund Administration Regulations, 2023, Komolafe said, "This will also provide the general rules for the exercise of the commission's responsibilities with respect to frontier basins in Nigeria pursuant to section 9 of the Act and the administration of the Frontier Exploration Fund. The aim is to encourage and attract investment to the frontier basins in Nigeria."
Follow us on Facebook/ twitter