The Federal Government has assured Nigerians of its commitment towards implementing far-reaching, all-round security strategies along the Abuja-Kaduna rail corridor and other rail corridors in the country.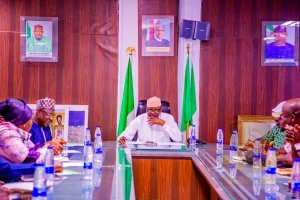 The Minister of Transportation, Mu'azu Sambo stated this at a meeting of the Nigerian Union of Railway Workers, according a statement by Henshaw Ogubike, the Director (Press and Public Relations) on Friday in Abuja.
Sambo said this was to ensure the safety of passengers and personnel, saying that part of the strategies to be adopted was a 24/7 online real-time monitoring of the Abuja-Kaduna rail corridor.
He said a centre would be set up for the Abuja-Kaduna rail corridor to monitor the movement of the train.
"Also, a monitoring device will be installed in the train which will enable the train captain to view the rail tracks up to 2 km ahead.
"The strategies have also been put in place to ensure adequate screening and identification of passengers that board the train," Sambo said.
He said this became necessary to prevent certain categories of passengers from gaining unhindered entry into the train.
In this regard, the minister explained that to buy a ticket, a passenger would be required to present his or her National Identification Number (NIN).
"Also, after ticket purchase, before gaining entrance to the lounge, the passenger would be required to place his ticket on a validator.
"This validator will display information about the passenger, including his picture.
"The passenger would only be allowed to board the train after necessary validation and authentication among other security measures," Sambo said.
On staff welfare, the minister promised to look into the issue of the condition of service and also push for the implementation of salary enhancement for the railway workers.
He further directed that a nine-man committee be set up to deliberate on the issue of monetisation of staff quarters and come up with acceptable and implementable recommendations.
Earlier, the President of the Nigerian Union of Railway Workers, Comrade Innocent Ajiji requested the minister to intervene in some of its members' problems with a view to find lasting solutions.
Ajiji listed some of the problems to include; the incessant attacks on the trains, poor condition of service of railway workers, poor remuneration, and the monetisation of staff quarters.
shippingposition
Kindly like us on Facebook/twitter